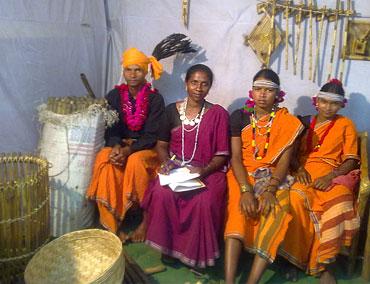 How did the Naxals come to take over large areas of Chhattisgarh's forests in Bastar?
Why has development not reached the tribals in Maoist-infested areas?
What about the allegations of human rights violation and police atrocities against the tribals?
Vishwa Ranjan, the director general of police, Chhattisgarh, answers these questions and the measures to win back tribals from the domination of the Naxals. The concluding segment of a recent three-part interview with rediff.com's Archana Masih.
Part I: 'Maoists have totally militarised themselves'
Part II: 'Mines and ambushes cause us maximum casualties'
There have been allegations of atrocities and human rights violations by the police.
I have been saying it from public platforms that this will not be allowed because the moment you do it you become an illegal entity. A police officer is a creature of law, the moment you do it apart from the psychological problems it creates for the police, you become an illegal entity.
But it has to be investigated. There is no such thing that you make an allegation and it is accepted. But if it is, it will be inquired into. Suppose you don't have faith in the thana, you can go to the SP (superintendent of police), if you don't have faith in the SP, you can go to the DIG (deputy inspector general of police), and go up to the DGP (director general of police).
If it is a cognisable offence, and prima facie such thing has been done, the police will register a case. This is what I have been telling in all my lectures to the people.
Sitting in your chair how do you respond to the criticism against the police of how anti-Naxal operations are carried out, the human rights violations and the uprooting of tribals?
You have to ensure two things -- 1. Do not wish away what they are saying because if you do that you will not know of certain aberrations, you must inquire into it through your channels. You have to be very cautious.
2. You have to educate your people (policemen), through interaction. Go to the outposts, sit with your men and make them understand. Most people have come from a rural background which has its own feudal setup -- where power has a different connotation altogether. You have to make them understand that they have got all their powers from the law and the moment they go beyond the purview of the law they become criminals.
It has to be done again and again and then gradually you will see the change taking place.
What steps are being taken to protect the civil liberties of the people?
It is basically training. If you go beyond the pale of law then you have to take action. You have to train them (policemen) continuously that it becomes second nature for them not to over-react.
In a war situation people do over-react. You have to keep talking to your men and they should not feel left out. A person who feels left out is more prone to over-react to a situation.
These regions have seen lack of development for decades. The state administration has failed to make an impact here.
The easy criticism is -- what have you done in the past 40 to 60 years? When India became independent, there was hardly any revenue.
What happened was that in most parts of tribal areas which were not very advanced -- a mix of the integrated and isolative approach was started to absorb them -- where they were given voting rights but were left by and large uninterfered.
Another factor that started mitigating against their development was that most of the area where they lived was under heavy forest cover. The Forest Protection Act was gradually taking away their rights to the land. There was a lot of pressure from ecologists that the forest had to be protected, so the area that fell within the forest couldn't be developed because the laws were strict and trees could not be cut to build schools, police stations, roads etc. So in a lot of areas even a modicum of development could not be taken.
Why could development not be taken to the tribals?
The revenue villages on the periphery had development but it was later destroyed. The other pressure was the protection of animals -- Project Tiger and Project Wild Buffalo -- were launched and large areas were converted as animal reserves. So not only was development not reaching there, villagers had to be uprooted to make way for this.
All this created a situation where tribal areas could not be developed and this was exploited by the Naxals because there was tribal grievance, naturally. They needed land because their population was increasing and they could be told -- 'look, the tiger and wild buffalo is more important than you'.
On the periphery, in the villages certain facilities had already entered while inside you couldn't expand and this is how they (Naxals)entered the area.
Because of the very strong lobbies to protect the forest and animals and the sociological model that you don't touch the tribals, the area by default remained backward. No one asked why this area did not get that kind of money -- if the environmentalist is honest -- he should raise his hand and say we didn't allow it, but he doesn't!
B D Sharma who was the collector of Bastar (who has recently been named by the Maoists along with novelist Arundhati Roy and Trinamool Congress MP Kabir Suman as their choice of mediator if talks are held with the government) was the exponent of the thought that the tribals should not be touched and stopped entry into Abujmarh and it could not be surveyed.
As a member of the expert committee report of the Planning Commission, he did not say he stopped it. When it is said that Abujmarh has not been surveyed even today, he should have said that he stopped it! And later on as the tribal development commissioner of Madhya Pradesh he got a government circular issued that no one will enter that area.
I am not saying he did it out of malice for the tribals, he actually believed that tribals were not prepared to face this. What I don't like is his silence on this issue today.
Seeing a problem in a fractional and not a holistic way always affects development. That's the problem with social activists because they see a problem in a fractional, fragmented manner.
What about addressing the grievances of the tribals?
Grievances can be addressed. There are various levels -- like in Uttarakhand where they (the Naxals) are moving about (still trying to gain ground), that's the time we must become very cautious and start responding to the grievances of the people.
In the case of Bastar, you can't take back the needles of the historical clock. You have to react today. First you have to create an atmosphere for development work. Today your people are not even being permitted to enter the area. They (the Naxals) have created a situation where no doctor, developmental agency wants to go, no contractor is even prepared to bid.
No one is saying that the police can become the solution, the police have to become the first respondent to create a situation where other people can enter. Tribals have no sympathy for Naxals but chilling fear.
What is your assessment of the Salwa Judum experiment?
Salwa Judum is not an experiment. I refuse to accept it. Salwa Judum was a tribal movement against the diktat of the Maoists not to pluck tendu leaves which created seasonal employment in that area.
They started hitting back because the Naxalites started beating them up. They started having meeting and when they (the Naxals) came to obstruct one meeting, the villagers caught hold of them and sent them to a police station. That led to retaliation by the Maoists and seven were killed.
Then they started moving from village to village saying that we must raise our voice, they started having smaller marches. Then (Congress leader) Mahendra Karma came, called it Salwa Judum and started holding bigger rallies. When they (the Naxals) hit back, we had to protect them (Salwa Judum).
If the villagers start running from the areas can the government say we will not give them protection? Why should the (Maoist) politbureau document say that they will physically exterminate it?
But the state government supported the Salwa Judum with arms to fight the Naxals.
The state is not supporting it with arms. We have the Special Police Force which we have recruited under the Police Act. They become police officers for that period of time. Usually it is an honorary post but because they are poor we give them a stipend and they are trained how to handle weapons and are under the command of thanas.
Half of them are helping in management of camps along with police officers. The picture painted by the Maoists and their supporters is that they are like a vigilante force which goes on a rampage.
They prevent people from going back to their villages.
There has always been seasonal migration in the chili plucking season to Andhra. A lot of people -- from Delhi University, JNU who have gone there have said they are migrants for employment -- but then tell me if there are 5 lakh (500,000 migrants (fleeing to Andhra), won't the collector of Warangal and Khammam (in Andhra Pradesh)start shouting for help?
If there are so many refugees there, won't the government start asking the Government of India to give them money to tackle them? They have said, yes, they are migrants -- but have they said there are 3, 4, 5 lakhs?
Those who are influenced by the Maoists are depending on reports that are not totally impartial but since the police over the years has had low credibility you don't accept it.
What has been the strategy in Naxal-affected areas so far?
We identified the ambush points. We were getting inputs that the Maoists were getting more militarised in their camps, so we had to hit the camps -- at least unsettle them and destroy the camps.
When we started moving in a lot of people started going back to the villages, at least those villages where the relief camps had been set up so we felt we could still win back people. We did a very strong jan jagran abhiyan (people's awareness camps), where police officers went to the village market and spoke to the people.
Gradually villagers started taking us to dumps of arms. We entered Abujmarh, had meals with the villagers there -- that kind of thing...
This had not happened before?
Not in such a systematic way. Once we started doing this the Naxalites got rattled because we were not only fighting a gun battle but were trying to wean away a section of people who were actually in the periphery area.
We also started educating people about Naxal violence with photos of their atrocities in the district headquarters.
Image: Tribals at a fair in Raipur. Photograph: Seema Pant.