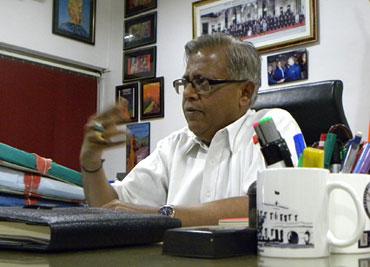 Till the Maoists massacred 75 security personnel in Chhattisgarh on Tuesday, the state had in fact seen a drop in police casualties by more than 78 per cent since Operation Green Hunt was launched by the central and state governments against the outlawed Maoists last year.
Road mines and ambushes are the two biggest causes of Maoist-inflicted casualties incurred by the security forces.
Vishwa Ranjan, Chhattisgarh's director general of police, in a recent interview to rediff.com's Archana Masih had said that they had lost only one personnel of the Bastar police and one from the Central Reserve Police Force in anti-Maoist operations in the state this year. Tuesday morning's massacre changed all that.
The director general of police -- whose helicopter was once fired upon by the Maoists who are also called Naxalites and who once served as the superinterndent of police in Bastar -- speaks about the the anti-Naxal operations in his state and the problems the police confront in this battle. The second of a three-part interview:
Part I: 'Maoists have totally militarised themselves'
Part III: 'Tribals don't have sympathy but chilling fear for the Naxals'
What are the problems faced in the anti Naxal operations and how have they been overcome?
There are only two problems.
1. The civil police in most places was not trained in this sort of militarised assault because they are basically civil police and their armed component is trained to take on only law and order situations. So it had to be trained.
2. The police stations had to be protected so that they could not be overrun. So we put rolled up wires around all police stations and put strategic watch towers. There was very little electricity that side so we went for solar electricity. A large number of them have full solar plants and senior officers started visiting them.
Have a lot of these changes taken place in the last two years?
Our jungle warfare course started about three-and-a-half years back. Initially it was like a normal jungle warfare course, then we started changing the methodology of training. It is more based on how a Naxalite operates in the jungle with a lot of practical training outdoors with a lot of simulation training.
What is the strength of your total force in Bastar?
Minus the joint operation, I have 16 battalions of CPMFs (Central Paramilitary Force), the CRPF, 2 to 3 battalions of SSB ( Shashatra Sena Bal) and 6 of our own (state security force) and whatever civil police is there. That is the basic force.
They have been deployed strategically, apart from police stations, we have camps and outposts so that they can move very fast in case of an emergency. What we are trying to do is work on a grid that there can be mutual support in case of an emergency.
In the last two years not a single camp has been attacked by the Naxals. They have tried to attack but have been repelled (a statistic before the April 6 Naxal attack on a CRPF battalion killing 75 men).
What time frame do you think it will take for this battle to end?
I don't think there is any time frame. If you keep on increasing the force levels in a graded manner then -- as far as my state is concerned -- anything between 3 to 5 years. It is linked with a lot of things -- if development is done at a good pace and to sustain that development. You cannot relax, you have to be on your toes even if they leave this area and go. Then we have to have a long term vision. Like Andhra Pradesh that is still keeping the vision.
How do you think Andhra was able to contain the Naxal problem?
Andhra took a lot of time. The problem started there in the 1970s. They could decide on a Greyhound (Andhra Pradesh's commando force) in 1989 that they needed a specialised force and in the initial stages the Greyhound lost a lot of men.
You have to learn, keep updating your technique and then they went the whole hog. Once they started going in, they immediately followed it up with development -- they opened up the area, put roads etc.
Is this what you are planning and hoping to do in your state?
This is the only way. The only way.
So why wasn't this done before?
Because there was always a paucity of force. There is no magic wand with which we can create force. Forces have to be taken out from other areas and the problem was there is always this tendency to hold on to force.
If it is with one state, that state doesn't want to let go. This time they got the BSF (Border Security Force) from the Kashmir border because the Kashmir situation had started easing. The plan is that you would keep on adding force in an upgraded manner. If you stop that suddenly, you are trapped, you can hold only that much or some adjoining areas.
What is the role of the central forces in Operation Green Hunt...
The joint op is an operation where we have decided to take a sanitised geographical area by putting a lot of force there so that development can take place simultaneously. Once development is done in one place you move to an adjacent area. It is a slow process.
How are you going to prevent the Naxalites from regaining or coming back to these areas?
When you have put a lot of force, they have no option but to recede. If you saturate that area with force then they have no option but to recede. You then develop that area under protection, hold it, educate the people, tell them what they had been missing and then move to the other area. Then you put blocks in other areas so that Naxalites don't come, so it will be a much slower operation.
This method -- something that you have termed as creeping reoccupation -- what is the progress thus far?
We have entered southern Abujmarh and north west Kanker area (in Bastar). That is one adjacent area that we have taken as one block where we have put forces. So far there has been very little -- one or two odd firings -- and we have been de-mining the area continuously and now development people will be taken in. Now we will start doing things which had collapsed completely.
So you are at the de-mining stage now in that area?
It will happen simultaneously. It's not that you do this and then do this. For example, de-mining is a continuous operation. We can't de-mine it and think it is de-mined forever.
What development has been brought to these areas?
Every department has made a plan for that area. Since basic development has totally collapsed, roads will be built, schools will come up again, public distribution system which was collapsing will be restrengthened, we are looking at the whole gamut of development.
In how many areas are you doing this currently?
Once we completely free that area, we go to the adjacent area. Now we are in the northwest Kanker and southwest Rajnandgaon districts, it is a contiguous area on the borders of Gadchiroli, on the other side (Maharashtra) is doing the same thing.
There is a plan by the Government of India to do a similar operation on the junction between Jharkhand and West Bengal and junction of Jharkhand, West Bengal and Orissa.
So what is the role of the central forces?
Their role is protection of that area in the event of an attack.
What is the strength of the central forces that has come to Chhattisgarh?
This is a separate force that has come. (There are about 23 battalions including the BSF, ITBP (Indo Tibetan Border Police), CRPF, SSB.)
The force which has been in Bastar for a long time is about 16 battalions of CRPF and there was the SSB. We have six battalions of the Chhattisgarh police. This is a separate force that has come for this small area -- which is five battalions. The same battalion is spread throughout 40,000 sq kms, you add my force, my civil police, it comes to one policeman per 5 sq kms of the 40,000 sq kms (of Bastar).
That is how big that area is -- Manipur and Nagaland are smaller than the erstwhile Bastar -- now it is 5 districts. Earlier it was bigger than Haryana and Kerala in size.
So there is much less force than Manipur, Mizoram or Nagaland. But although we need more force, I always believe that you can't innundate the area by force. It has to be gradual. I should have the capacity to accept the force also -- have the infrastructure, you just cannot dump the force.
So willy-nilly because of the paucity of force, we have to be extremely creative in your ops. You can't go for an all out war, you have to be selective, that's why we selected training camps or their facilities like arms building, we depended on intelligence-based operations. Secondly, gradually open new posts so that the area around the camps gets sanitised.
Photograph: Seema Pant