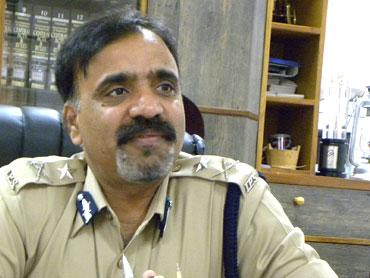 About 130 of Chhattisgarh's 370 police stations fall in Naxalite-affected areas and all fresh superintendents of police are first deployed in these districts. Last year, the superintendent of police of Rajnandgaon, V K Chaubey, was killed with 36 policemen in an ambush by the Naxals, the outlawed insurgents who claim they fight for the rural poor.
In the last three, four years, Chhattisgarh, one of the worst Naxal-affected states, has doubled its police strength to almost 50,000 but the massacre of 74 CRPF (Central Reserve Police Force) troopers and one state police constable on April 6 will force the state and Union governments to rework their anti-Naxal strategy.
R K Vij, Inspector General of Police and spokesperson, Chhattisgarh police, recently spoke to rediff.com's Archana Masih about the anti-Naxal training of the state police and the challenges of countering the outlaws, especially with the impending monsoon.
What could be the number of Naxalites in the state?
There are about 5,000 hardcore Naxalites with armed militia. This includes up to the level of LOS (Local Organisational Squad], LGS (Local Guerilla Squad). Then they have platoons -- armed platoons and companies. Now they are planning to constitute their battalion in the Bastar area.
They have companies. Whenever they attack, generally two or three companies get together and attack the police installations.
Is it mandatory for all your police personnel -- even SPs -- to train at the jungle training centre in Kanker?
Now it is necessary. Before they become SPs, they have to. The IPS (Indian Police Service) probationers, before they go to the district, they have to undergo training there.
How long is the training for?
45 days.
What kind of training do they get?
It is basically endurance in the jungle, tactics, firing practice etc. It is about how to survive in the jungle when conducting operations and the precautions to be taken etc. Basically it is like a commando training -- learning how to react to such attacks.
Has it been made mandatory that all SPs serve a two-year tenure in Naxal-affected areas?
There is no mandatory policy as such, but yes we do have a system where our SPs have to start their careers from those districts only. Now all IPS officers when they become SP are first deployed in these districts.
It is not always followed very strictly due to certain reasons, but generally they are sent as SPs there only. Also, serving two years in these areas is now a part of the Chhattisgarh Police Act.
Once the monsoon sets in, what challenges will that pose in the battle against the Naxalites?
You have to be more careful as then there are streams etc that have to be crossed and the routes are also limited. They (the Naxals) plant explosives near those routes, so basically you become more vulnerable. You have to be more alert. We spend more time in training. Even their (the Naxals) operations become limited I would say, both have to be careful as you can get trapped. It becomes difficult.
What is the size of the central forces (in the state)?
We have about 23 battalions including the Border Security Force, Indo Tibetan Border Police, Central Reserve Police Force, Sashastra Sena Bal. The paramilitary forces came to the state in 2005. Their number has gradually increased after that.
What about September onwards (after the combined Centre-state Operation Green Hunt began to counter the Naxalites)...
Even before that we had sufficient paramilitary forces. Recently it is only in two districts that the operations have been intensified. To prevent their (the Naxal) expansion we have forces now in Dhamtari and Raipur. Otherwise, I don't think the number really shot up.
So the difference in numbers is just in these two districts?
Yes, mainly.
And that is where a renewed force from the Centre has been deployed?
Yes, mostly
So it is not as if a large number of troops have just come in in the last few months?
Frankly speaking, it is only five plus two, that is seven battalions. We already had 16.
What is the strength of one battalion?
The sanctioned strength is generally about 1,000 for each battalion and the approximate deployment -- those who participate in the operations is about 60 per cent. That would be about 500 to 600 that participate in the operations.
Some have to be in camps for protection, then you have a percentage of those who go on leave etc, those doing administrative and general duties etc.
In the last couple of years how has rural policing been modernised in Chhattisgarh?
We have about 130 police stations in Naxalite-affected areas out of a total of 370 or so. The number is gradually increasing, but at the moment we have 389 sanctioned police stations though few (those recently sanctioned by the government) are yet to start.
It is only in these last three or four years that all these police stations have been upgraded. Earlier the strength of a police station used to be about 10 to 13 policemen. Around 13 used to be the standard strength of a police station. But now it is not less than one company, that is 70 or more.
In the last five years, the strength of the police has more than doubled. From 21,000 or so, now it is touching about 50,000. So not only have the police stations been upgraded so that we can safeguard our own premises, we can also independently launch operations.
Two, three police stations act together with some SPOs (Special Police Officers). They have been leading/doing operations independently. We do not only do joint operations (with central paramilitary forces).
How many SPOs do you have?
About 3,500.
What kind of role are they in?
Basically they are a source of information for us and few of them are very good fighters, so they accompany our forces in operations also. They are local people so it is easy for them, they know the routes and are like guides during operations.
Do they continue to live in their local area?
No, mostly they live in police premises now. Many SPOs have been killed by Naxalites, feeling that they are source of information. So now they stay with the police only. We have barracks for them in the police campus. There are a few whose families have also joined them -- so they are living nearby, but close to where the police stations are.
What about training? How has training been upgraded for the police?
We have given them different types of training -- at the police station level, at district and range level as well. A few have been trained from outside, like the paramilitary forces. Earlier we used to have the Naga Battalion. The Mizos also. The Nagas were very good trainers, they trained the SPOs as well.
The CRPF also does training and we have our own police force that is trained in our institutes. So depending upon their skills and how and where they can be utilised best, we provide training. Though there is no fixed programme, it can be for one month, two or three months.
What success have you had in clearing landmines?
We have special equipment and we keep doing de-mining of the routes that are being used by the public as well as the police forces. The de-mining activity is a continuous process done by the forces.
What kind of compensation is given to injured policemen?
We have a separate fund and the director general of police is authorised to sanction the amount. For every martyred police officer the compensation is Rs 10 lakh (Rs 1 million), for the injured, a lesser amount depending upon the injury, and Rs 20,000 for education of their children.
Do the injured continue working with the police force?
Yes they do, there are assigned lighter duties at the headquarters, but only on the basis that they will not be able to perform on field as a result of his injury. We have not removed a single policeman, unless one has asked for early retirement.
What is being done to boost the morale of the police force in facing the Naxalites?
About a year ago, the government sanctioned a special Naxal duty allowance for the civil police and for the Chhattisgarh armed forces deployed at these areas. And there is this Paushtic Ahaar Bhatta (special diet allowance), where they get about Rs 600. It may not be a big amount, but it is a beginning.
How is intelligence gathering being strengthened?
I wouldn't like to say much about this, but yes about three, four years back we got our unit of the Special Intelligence Branch.
The SIB has been constituted by the government to strengthen our Naxal intelligence. It is headed by an ADG (additional director general of police-rank) officer at the moment and we have a DIG (deputy inspector general of police) and SPs of these SRE districts -- the Naxal-affected districts.
SRE is security related expenditure as the amount spent is partly reimbursed by the Government of India. There are seven SRE districts and the government also sanctions field staff for these SRE districts.
What kind of action has been taken against SPOs who have been guilty of committing atrocities against tribals?
Cases are registered cases against them. We have also removed them from their jobs. We take both criminal as well as departmental actions against them.
What is the effort of addressing the backlog of grievances of the tribals?
In our scheme for SRE, there is a provision for community policing as well as strengthening the security related infrastructure of villages. We also hold camps to improve the public-police relationship so they can have faith in the police and the system so it helps them restore peace in their areas.
Through village defence societies, we are trying to improve this where officers listen to their grievances.
Has an impetus been given to this in the last year or so?
This scheme is in place since 2005.
Do you see this bearing fruit?
I can see there is scope for improvement because it is difficult sometimes as the villagers are reluctant to interact, so gradually we are going into the deeper areas. But we have been holding camps. I have also attended these camps. I was IG Bastar for two years before coming to this post. We have gone to interior areas and done these exercises.
Are there problems for the state police to work with the central forces?
No, not really. As far as operations are concerned, they have to be conducted under the leadership of the state forces. So the SP and IG range have to plan and lead the operations. The other forces are there to assist them. There is lot of mutual cooperation. Then under the leadership of our chief minister there is a unified command.
Photograph: Seema Pant