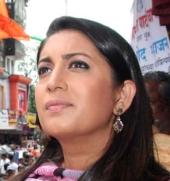 Bharatiya Janata Party president Rajnath Singh, popular TV-star-turned-politician Smriti Irani, actor-turned-politician Shatrughna Sinha and senior leader Venkaiah Naidu will campaign for the party in Arunachal Pradesh, which goes to polls on October 13.
While Irani has already addressed a series of election meetings in Itanagar, Sinha is scheduled to address a poll meeting at Along in Pasighat on Wednesday.
Singh will hit the campaign trail on October 2 while Naidu is expected to hold a election meeting two days after that.
The BJP has fielded 21 candidates for the 60-member Arunachal Pradesh House. Though the party had initially nominated 23 candidates, two of them later defected to other parties. The BJP is desperately trying to regain its foothold in the tribal hill state against the ruling Congress.
The saffron party has already suffered a massive setback when its most well-known leader in the hill state and former Member of Parliament Khiren Rijiju left the party to join the Congress.
The BJP had won nine seats in Arunachal in the 2004 polls, but all the Members of Legislative Assembly later joined the ruling Congress, in a coup led by senior legislator Kripa Babu. The BJP has to start from scratch again in this year's assembly polls.
Meanwhile, three Congress nominees, including incumbent chief minister Dorjee Khandu, have been declared unopposed from three legislative assembly constituencies from Tawang district, bordering China and Bhutan.
Khandu has been elected unopposed from Jung-Mukto LAC while two other Congress candidates -- sitting MLA Tsewang Dhondup (Tawang LAC) and debutant Jambey Tashi (Lumla LAC) -- have also been declared elected unopposed.