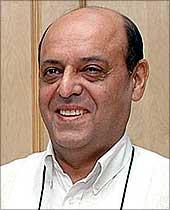 The assembly elections in the states of Haryana, Maharashtra and Arunachal Pradesh will be held in a single phase on October 13.
The counting of votes will take place on October 22.
Chief Election Commissioner Navin Chawla announced the dates in a press conference on Monday.
He added, "The decision has been taken after considering all the factors including public holidays, academic calendar, climatic conditions, time required to deploy forces etc".
Use of any religious place for election campaigning and seeking votes on the basis of religion or caste will amount to violation of the model code of conduct for elections, the CEC said.
The notification of the election will be issued on September 18, the last day for filing of nomination will be September 25, scrutiny of nomination will be held on September 26, and the last day for withdrawal of nominations will be September 29.
The election process will be completed on October 25.
The CEC also prohibited police personnel or officials from being appointed in their home cities.
"No official with a controversial record will be appointed during the poll process," said the CEC.
Over 7, 55,000 people in Arunachal Pradesh, 1,20,63,000 in Haryana, and over 7,56,34,000 people in Maharashtra are registered in the electoral roles.
The EC will set up 2,061 booths in Arunachal Pradesh, 12,894 in Haryana and 82,028 booths in Maharashtra for the polling.
The EC has also directed all its state election boards to start help-lines for public.
There are 82,028 (Maharashtra), 12,894 (Haryana), and 2,061 (Arunachal Pradesh) polling centres in the three states.
The percentage of people having voter identity cards in the three states is 67 per cent (Maharashtra), 99 per cent (Haryana), and 87 per cent (Arunachal Pradesh).
Chawla said a camera will be installed in each and every polling booth and the CD will remain in the custody of the district election officer (DEO). Any individual, who would like to have a copy of the CD, can get the same from the DEO by paying the prescribed fee.
He also asked the DEO to retain a master copy of the CD, so that it will help the EC to produce the details, in case any writs were filed in the court related to the election disputes.