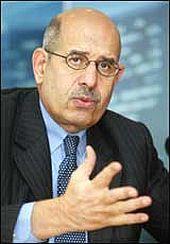 Mohammad ElBaradei, director general of International Atomic Energy Agency, was on Wednesday honoured with the prestigious Indira Gandhi Prize for Peace, Disarmament and Development for his 'impassioned opposition to use of nuclear energy for military purposes.'
President Pratibha Patil gave away the Prize which carries a Rs 25 lakh purse and a plaque to the IAEA chief at a function at Rashtrapati Bhawan attended by Vice President Hamid Ansari, Prime Minister Manmohan Singh and Congress chief Sonia Gandhi.
Accepting the Prize, ElBaradei said, "India has become a beacon of hope to the developing world ...I trust that India will spare no effort in practising and advocating the highest standards of nuclear safety and security."
The International Jury of the Prize, chaired by Singh, had decided to confer the honour on him in November last year. The IAEA chief was being recognised for 'his impassioned opposition to the use of nuclear energy for military purposes and his steadfast espousal of the peaceful uses of nuclear energy, sustained over many years.'
ElBaradei played an important role in India clinching the Safeguards Agreement with the IAEA, a prerequisite for New Delhi's re-entry in international nuclear commerce. A lawyer by training, ElBaradei began his career in the Egyptian Diplomatic Service in 1964 and served in the United Nations both in New York and Geneva.
Image: IAEA chief Mohammad ElBaradei