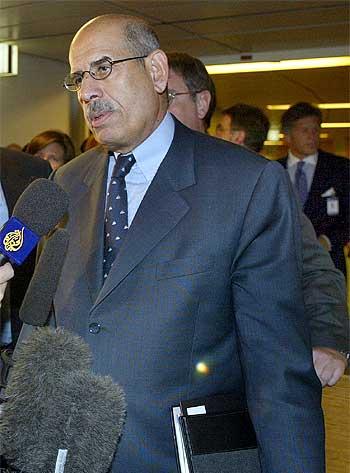 International Atomic Energy Agency chief Mohammad ElBaradei hailed India as a "leading advocate" for nuclear disarmament and asked the world to listen to its "voice" on elimination of all nuclear weapons. "India called for the elimination of all nuclear weapons as far back as 1948. It is important that India's voice should continue to be heard as a leading advocate for nuclear disarmament," he said addressing the International Conference on Peaceful Uses of Atomic Energy in New Delhi.

The IAEA Director General said if hopes of a nuclear weapons-free world have to be turned into reality, "we have to start laying the groundwork for a global security system that does not depend on nuclear weapons". It has to be a system built on human solidarity and equity; a system based on cooperation and not confrontation; on inclusion and not exclusion, El Baradei said. Lauding India's role in peaceful uses of nuclear energy, he said the country continues to set the agenda for research and development in the field of sodium-cooled fast breeder reactors. In the field of nuclear applications, he said "India is making radiation and nuclear medicine increasingly available in rural areas."
Expressing concern over the increase in the number of nations possessing nuclear weapons, ElBaradei said he was "gratified" that nuclear disarmament has now moved back to the top of the international agenda. "Russia and the US are negotiating significant cuts in their nuclear arsenals. There is increasing global recognition that nuclear weapons are a threat to us all and growing momentum for their complete abolition," he said.

The IAEA chief asserted that every country had the right to develop nuclear power but said such nations have to ensure that nuclear material is not diverted from peaceful to military purposes. "Every country has the right to add nuclear power to its energy mix, as well as a duty to do it responsibly. "That means adhering to the highest safety and security standards and ensuring that nuclear material is not diverted from peaceful to military purposes," he said. ElBaradei noted that most of the 30 countries already using nuclear energy had plans to expand their output and many countries mostly in the developing world have informed the IAEA about their interest in harnessing atomic power.

"Growth targets have been raised significantly here in India, as well as in China and in the Russian Federation. Asia remains the focus of growth in nuclear power because of this region's robust economic growth," he said. India's remarkable economic dynamism in the past two decades has made it a role model for many developing countries, ElBaradei said, adding it was ideally placed to share its technological expertise and economic know-how with less advanced countries.

"It is vital that countries planning to build nuclear power reactors understand the need to ensure the highest safety standards and avoid problems faced by some countries which already have nuclear power," he said. The IAEA chief listed ageing reactors, poorly managed or under-funded operators and weak regulators as problems faced by some countries active in the nuclear sector.

"A strong focus on safety and security should be seen as enablers for the further development of nuclear energy rather than as hindrances," ElBaradei said. He hailed Homi Bhabha, the architect of India's nuclear programme as an "influential figure" in the birth of the IAEA and recalled that the visionary scientist had cast his vote in favour of making Vienna the headquarters of the global nuclear watchdog. Finance Minister Pranab Mukherjee released commemorative coins on Bhabha. Atomic Energy Commission Chairman Anil Kakodkar said India was poised to play an important role in growth of the nuclear sector after its re-entry in global nuclear trade.
Image: International Atomic Energy Agency director general Mohammed El Baradei talks to journalists in Vienna.
Photograph: Herwig Prammer/Reuters