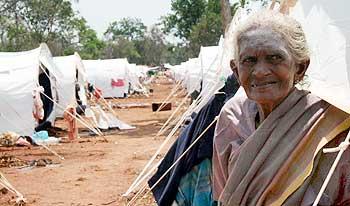 The Sri Lankan government has ruled out unregulated access to the Internally Displaced Persons' camps in the island nation, arguing that such a step may threaten 'peace and tranquility' in these camps.
Thousands of Tamil civilians, who had fled their homes after the fighting between the Liberation Tigers of Tamil Eelam and the Sri Lankan army escalated after a decades-long civil war, are still living in these camps.
Responding to questions after addressing an audience at the Asia Society in New York last week, Lankan Prime Minister Ratnasiri Wickramanayake refuted all allegations of human rights abuses by the military and criticism of the government's treatment of the displaced Tamils.
"First and foremost, no crime was committed by our armed forces. When countries talk about the problem, I would urge them to help us and not talk. Please accept the fact that we have a big problem on our hand. The entire area is mined and de-mining is not an easy job to do," a visibly agitated Wickramanayake said in response to a question about the IDPs.
"So, whoever speaks about these problems, let them understand the huge problem that we are facing. We are doing our best to clear the mine-infested areas.  But we need support and cooperation from nations who can afford (to provide them). If aid comes to us, we should be able to clear this mess in a few months," he said.
The prime minister also flatly denied the allegations that even members of the International Committee of the Red Cross were not allowed access to the camps.
"I deny that. (But) unfettered access can be given only to the extent that they (people going inside the camps) will not disturb the normal peace inside the camps. There are some people who are loyal to the LTTE even now," he said.
"ICRC employs local people (to take them inside the camps) and they never ask us (for permission) Two people have been arrested who were direct agents of the LTTE. Therefore, if you allow these people to go inside, the peace and tranquility within the camps will be disturbed. When they (LTTE agents from outside) go to the camps and meet those people, they give bad ideas to reopen LTTE activities. They would like to try to revive violence," he said.
When asked to clarify his comment about the ICRC bringing LTTE agents inside the camps, Wickramanayake replied, "The fact remains that the two people who were loyal to the LTTE were arrested. So, we can't give a blanket waiver that everybody can go inside. Please try to understand our security problems".
Defending the Lanka government's stance, he said, "A lot of non-governmental organisations are working with us, but we do not have any problems with them because they adhere to the rules. There is a list of dos and don'ts."
Earlier, in his address, the prime minister said that Sri Lanka has suffered almost for three decades from terrorism perpetrated by the LTTE, one of the world's most dangerous and ruthless organisations. Defeating terrorism was not easy, Wickramanayake said, because certain people supported terrorists both secretly and openly.
"We have gotten rid of terrorism but the residual problems remain. The internally displaced Sri Lankans need to be resettled in their villages. These are the people who were displaced due to the fighting between the LTTE and our forces. It is necessary to completely wipe out the LTTE's network that operated locally as well as internationally,' he said.
The Lankan PM said that Sri Lanka had flourished with the teachings of Buddhism and added, "A true Buddhist chooses compassion over all others, helping people who are suffering. Over 280,000 Tamilians came to us for security. It is not an easy task to provide welfare to these people all at once. Yet, we accepted the challenge. Today people are being resettled systematically and efficiently. In fact, the government has accomplished a huge task in a short time," he said.
But Wickramanayake admitted that a serious obstacle facing the Lankan government was de-mining of conflict zones, as the terrorists had planted landmines in playgrounds, farm fields and on roads.
"We are not ready to push our people onto these death traps. NGOs and some governments are helping us remove these," he said.
Wickramanayake said that some LTTE leaders had realised that this separatist war was not practical and they had laid down their arms and joined the mainstream.
"One of them is a minister in our government and another is a chief minister in the eastern points. They understood that peoples' aspirations can be met through democratic forces," he said, adding that many people were coerced into joining the LTTE.
"Although terrorists took away the childhood of many children, we would like to give them a future and we are working on it. The challenge that we are faced with is to channel these misguided talents for the benefit of the country. Children who were forced to carry heavy arms now go to school and receive vocational training," he said.
Lobbying for investments in the island nations, Wickramanayake said, "It is imperative to boost the economy of the country, which has been badly affected by terrorism, with new projects and programmes. There is opportunity for you, including United States, to invest in Sri Lanka".
Asked if Sri Lanka will be able to represent a multi-ethnic nation that embraces diversity, the prime minister said that Sri Lankans want a united country with no discrimination whatsoever.
Two committees have been set up to look into related issues, informed Wickramanayake, adding, "The minorities can bring their grievances to the table."
He stressed that Colombo will like to preserve and safeguard the identities and interests of the different communities living in Sri Lanka. "We would like to safeguard our nation as one nation, irrespective of people's religion and ethnicity. Let the solution be of people and not by the government. We want a solution that is acceptable to the majority of the people of Sri Lanka," he said.
Image: An elderly Tamil woman sits in front of a row of tents in a refugee camp located near Vavuniya | Photograph: Reuters