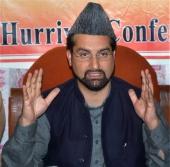 Pakistan President Asif Ali Zardari [ Images ] on Tuesday met Hurriyat chairman Mirwaiz Omar Farooq, who had also met Foreign Minister Shah Mahmood Qureshi earlier.
Pakistani officials said that during the 30-minute meeting, Farooq briefed Zardari about the All Parties Hurriyat Conference's perspective of the ground realities in Kashmir [ Images ].
Earlier, the Pakistan foreign minister met Farooq, ahead of his meeting with his Indian counterpart S M Krishna [ Images ] on Monday.
"We want to consult them...We want to move towards a solution based on ground realities," Qureshi told reporters after a meeting with the Hurriyat chairman.