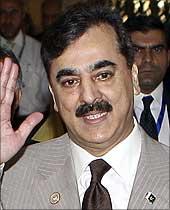 Pakistan Prime Minister Yousuf Raza Gilani has once again said that Islamabad would continue its support to the Kashmiri people and the government's decision to give autonomy to Gilgit Baltistan does not mean that it has shelved the Kashmir issue.
"We gave internal autonomy, sovereignty to Gilgit Baltistan which was a long standing demand of its people but this does not mean that we have forgotten the Kashmir issue. We will continue to give moral and diplomatic support to the Kashmiri people," Gilani said.
The prime minister said the government had not altered its stance on the Kashmir issue by awarding autonomy to the Northern Areas.
He said Kashmir was the cornerstone of the Pakistan Peoples Party's foreign policy, and its support to the cause would continue.
Interacting with media persons during an Iftar dinner hosted by Sindh Governor Dr Ishratul Ebad Khan, Gilani stressed that Pakistan was not a 'failed state', saying the country has a 'strong democratic government, independent judiciary, free media'.
Referring to the Swat military operation, Gilani said security forces have 'successfully' defeated extremism and militancy with full support of the masses.
"North Atlantic Treaty Organisation's forces are fighting in Afghanistan for the last five and a half years but Pakistan;'s armed forces successfully carried out the operation against extremists and terrorists in Malakand in eight weeks," The Dawn quoted Gilani as saying.
Meanwhile, Foreign Minister Shah Mahmood Qureshi has said that there is a need to project the Kashmir issue more vigorously and the role of the Kashmiri leadership was extremely important in this context.
Briefing political leaders of the Pakistan occupied Kashmir on the Gilgit-Baltistan reforms, Qureshi said resolution of the Kashmir issue was the key to durable peace in the region.
"We feel that Kashmir dispute is central to the Pakistan-India relations, which highlights the need for Kashmiris to be associated with the dialogue process," Qureshi said.
He assured the leaders that Pakistan has been making consistent efforts to project the Kashmir cause at various international levels.