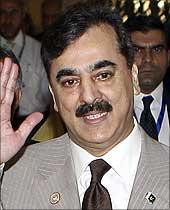 Pakistani Prime Minister Yousuf Raza Gilani on Tuesday said relations between Pakistan and India cannot be improved without the resolution of the Kashmir issue, which is holding up peace in South Asia.
"We want to foster better relations with all our neighbours, but I think the basic issue for better relations (with India) is the Kashmir issue," Gilani told a public gathering at Gilgit in the Northern Areas.
"As long as they (India) do not resolve the Kashmir issue, relations cannot be improved. As long as this issue is not resolved, peace cannot be established in this region," he told hundreds of people who attended the meeting at which he announced an autonomy package for the region.
"I want to assure you that we want better relations with all our neighbours, including China, Afghanistan, India and Iran, but on the basis of equality because we are a sovereign country and an atomic power. We also have a responsible government," Gilani said.
Pakistan is making efforts to improve relations with India, Gilani said. "We want to have the composite dialogue with them. We want to have peaceful negotiations with them to find a peaceful solution that is accepted by our Kashmiri brothers."
Gilani announced the implementation of the Gilgit-Baltistan Empowerment and Self-Governance Order of 2009, which was recently approved by the government and ratified by President Asif Ali Zardari.
Under the order, the Northern Areas have been renamed Gilgit-Baltistan and the region has been virtually given the status of a province.
India, which claims the Northern Areas as part of the erstwhile state of Jammu and Kashmir, has protested against the move.
Pakistan has rejected India's objections as well as its contention that Jammu and Kashmir is an "integral part" of its territory.
Gilani also unveiled a slew of welfare measures for the Northern Areas, including grants and financial aid for diverse sectors including healthcare, education and research. He also urged the people of the Northern Areas to shun sectarian differences and to live in harmony.
The Northern Areas has a sizeable Shia population and Gilgit was recently rocked by sectarian violence and protests that claimed four lives.
Image: Pakistani Prime Minister Yousuf Raza Gilani