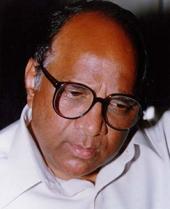 Nationalist Congress Party President Sharad Pawar, who of late is talking about his retirement from active politics, has said only 'sanction' from people would decide as to who would be his political heir.
Pawar, in an interview to a Marathi news channel on Monday night, was reacting to a question on speculations about his Parliamentarian daughter Supriya Sule or nephew and Maharashtra minister Ajit Pawar being his possible successors in politics.
Strongly refuting the reports that relations between Ajit and Supriya could sour in the future, the NCP chief said "Ajit is guiding Supriya and giving her strength in her political career."
He blamed the media for raking up such issues. "Ajit has been in Maharashtra politics for the last 20 years and has won assembly elections five times, proving his abilities. The two share a good rapport," he added.
"Supriya's area of interest is mainly in national and international affairs as well as education and developmental projects. There is no need for any conflict (of interests) between the two," he noted.
Supriya won the last parliamentary elections from Baramati constituency, Pawar's strong-hold. On talks of his retirement, Pawar said, "All those in public life have to decide one day how long one should continue in electoral politics".
On being pointed out that he had been saying this for the last ten years and still fought the last elections, he said "I fought the last parliamentary elections against my wish, bowing to the pressure from state party leaders."