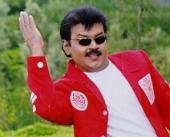 Desiya Murpokku Dravida Kazhagam leader Vijaykant is observing a one-day token fast at the Jantar Mantar in New Delhi to express solidarity with the minority Tamil population in Sri Lanka.
Vijaykant, an actor-turned-legislator in the Tamil Nadu assembly, is known as the 'Black MGR' among his fans and followers.
The DMDK leader slammed both the Dravida Munnettra Kazhagam and the United Progressive Alliance government for not taking the plight of the displaced Tamils in Sri Lanka seriously. Thousands of Tamils, who fled their homes during the clashes between the Lankan army and the Liberation Tigers of Tamil Eelam, are still living in transit camps.
Addressing his supporters in Tamil, the actor-turned-politician alleged that fishermen from Tamil Nadu were being kidnapped and killed, while they were out fishing on the high seas.
If this continued, the UPA government should use its Navy to protect these fishermen, declared Vijaykant.
"We shall ensure that there is retaliation from Tamil Nadu," he thundered.
Most of the party leaders at the meeting wore black caps as a mark of protest.
Nearly 1,750 DMDK supporters attended the meeting, and several huge banners with the Black MGR's photographs were displayed at the venue.
The DMDK managed to garner nine per cent of the total votes polled in Tamil Nadu in this year's Lok Sabha elections. Experts believe that the party played the 'spoiler' in the Parliamentary polls and was responsible for the defeat of Jayalalaithaa's All India Anna Dravida Munnetra Kazhagam.