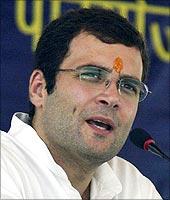 After placing the party on the revival path in Uttar Pradesh, Congress general secretary Rahul Gandhi's next stop seems to be Tamil Nadu where he is making efforts to give a new lease of life to the local base by injecting 'youth power'.
Sources said Gandhi's target among the southern states is Tamil Nadu which sends 39 members to the Lok Sabha.
This, he plans to do by giving preference to youngsters and holding organisational elections for the State Youth Congress, a move found useful in Punjab and Uttarakhand. Sources said Gandhi wants the Youth Congress elections to be held very soon and has also planned to visit to the state by mid-September to interact with party workers.
The young leader, sources said, was upbeat after around 2 lakh members joined the Tamil Nadu Youth Congress after a recruitment drive was held last month by party leader Jyotiraditya Scindia.
The Congress is now supporting the Karunanidhi government from outside, as demands by a section of state leaders for sharing of power went unheeded.
Significantly, Gandhi had last week met popular Tamil actor Vijay in New Delhi and is believed to have expressed interest in using his popularity to attract youth support for the party.
"Gandhi has started his efforts to rebuild the party in Tamil Nadu. That's why he met Vijay in person and discussed the political situation in the state and the actor's agenda," a senior party leader said.
There has been speculation about Vijay taking a plunge into politics and his discussion with Gandhi has excited the party workers.
Gandhi also discussed the various activities undertaken by the actor's fan clubs, sources said.
The talk in Congress circles is that Gandhi is keen on tapping Vijay's fan-following to achieve his goal of revitalising the party's prospects in the politically-crucial state.
The Congress has been out of power in the state for over four decades and was pushed to the third spot in the 2009 general elections by the two Dravidian parties – Dravida Munnetra Kazhagam and All India Anna Dravia Munnetra Kazhagam.
The late Kamaraj was the last Congress chief minister of the state. The Congress has been depending on either of the Dravidian parties since it was thrown out of power in 1967.
A senior party leader said Gandhi's goal for the next three years was to strengthen the party in Bihar, West Bengal, Tamil Nadu and Uttar Pradesh -- where he led the party to a spectacular show in the Lok Sabha polls. The four states together account for around 200 Lok Sabha seats.
Image: Member of Parliament and Congress general secretary Rahul Gandhi