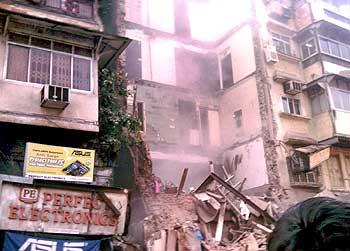 A case has been registered against two shop owners after a portion of a four-storey residential building collapsed in Mumbai on Tuesday evening.
According to the police, Yunus Kasam Memon and Irfan Yusuf Memon, who own a shop of mobile handset covers, had allegedly added a staircase without seeking permission from the Maharashtra Housing and Area Development Authority and the Brihanmumbai Municipal Corporation.
This led to collapse of the building 'Yusuf Manzil' at Lamington Road, they added.
Meanwhile, an 85-year-old woman, who was seriously injured in the collapse, died on Tuesday. Five others, who were rescued from the debris, suffered minor injuries and were treated at the hospital.
Among those rescued was a month-old infant. Her condition was reported to be normal.
"We have rescued four people so far from the building. Of the four people, we have rescued a month-old infant and an 80-year-old woman," said Pratap Damodar Kargupikar, chief fire officer, Mumbai.
Congress Member of Parliament Milind Deora visited the spot and said that the actual cause behind the collapse could be ascertained only after an investigation.
"Some people say a shopkeeper began some illegal construction after pulling down the shutters of his shop. The authorities will enlighten you about the actual cause after the investigations," he added. 
Image: The collapsed building at Lamington Road, Mumbai | Photograph: Umakant Patil