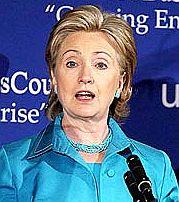 Noting that the Al Qaeda [
Images
] and the Taliban [
Images
] have now large presence in Pakistan, United States Secretary of State Hillary Clinton [
Images
] on Sunday said that in the last nine months Islamabad [
Images
] has increased its commitment in the fight against terrorism, but the Obama [
Images
] administration is not "satisfied."
"Well, look at, again, what has happened in the last nine months. Pakistan has increased its commitment in the fight against the Taliban and Al Qaeda," Clinton told the CBS news channel in an interview.
Clinton said that the Pakistan has been "absolutely successful" in the Swat valley [ Images ], despite the fact that a lot of people thought that they would never happen.
"I believed that if we engaged very intensively with our Pakistani friends -- and we did, through meetings in Washington and in Islamabad -- if we shared information, we listened to each other, that there would be a decision by the civilian and military leadership that the threat was directed at them, that it could undermine their government," she said.
"So, yes, have they taken action? Absolutely," Clinton said. "In fact, it will lead to very dangerous consequences, in terms of the survivability of the state in many parts of the country," she said.
"Have they done enough is the question?" she was asked. "Well, you know, we are always working for more. As I just finished saying, we are not satisfied with anything. This is not a check box kind of experience where 'we're done with that, we're done with that'," she said.
"But look at what has been accomplished, and I think that we will continue to see a very close coordination," Clinton said. "But it is important for Americans to understand that focusing on Al Qaeda and the Taliban, who are largely -- but not exclusively -- now in Pakistan, cannot be done if we allow them to return to a safe haven in Afghanistan. So, this has to be viewed as part of the overall strategy," she said.