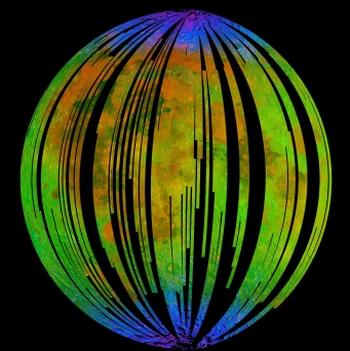 National Aeronautics and Space Administration's moon mineralogy mapper, an instrument on board India's lunar mission Chandrayaan-1, has clicked this magnificent image of the moon.
The photograph shows a tricolour composite of reflected infrared radiation from the sun and illustrates the extent to which different materials are mapped across the side of the moon that faces the earth.
Small amounts of water were detected on the surface of the moon at various locations and both the Indian Space Research Organisation and NASA made an official announcement to this effect.
NASA has even said that their scientists are now confident of harvesting water from the lunar surface in the future which in turn would sustain lunar astronauts and propel missions to Mars.
ISRO chief G Madhavan Nair, while terming this discovery as path breaking, said that the moon could be used to launch satellites and conduct several observations.
This particular image that has been taken by the Moon Mineralogy Mapper or the M3 illustrates the distribution of water at high latitudes towards the poles. The blue depicts the signature of water, green the brightness of the surface as measured by reflected infrared radiation from the sun and red shows an iron bearing a mineral called pyroxene.