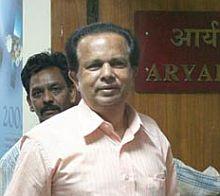 Indian Space Research Organisation Chairman G Madhavan Nair is all set to become the first non-American to head the International Academy of Astronautics.
The formal announcement was made on Monday by IAA secretary general J M Contant during an international conference on low cost planetary mission in Panaji.
"Its a great honour. All these years Americans chaired the post, first time a non-American, that too an Indian, is elected is a matter of great honour," Nair told PTI after the announcement.
Nair will formally take over the post during the International Astronautical Congress scheduled to be held in Korea this October. Nair, whose term is for two years, was elected by 94 member countries through postal ballot. IAA was founded in Sweden's capital Stockholm on August 16, 1960.
Image: ISRO chief G Madhavan Nair