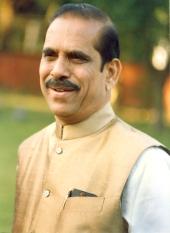 A day after joining the Congress, former Shiv Sainik Sada Sarvankar on Friday alleged that party executive chief Uddhav Thackeray ordered the recent attack on the residence of former Lok Sabha Speaker Manohar Joshi.
"Uddhav gave us the orders to attack Joshi's house," said Sarvankar, who was elected to the Maharashtra assembly in 2004 on a Sena ticket.
On September 20, Sarvankar's supporters demonstrated violently outside the senior Sena leader's Shivaji Park residence, accusing him of being responsible for the refusal of ticket to him. Peeved at being denied a ticket from Mahim constituency for the October 13 assembly elections, Sarvankar quit the Sena and joined the Congress in the presence of industry minister Narayan Rane, a former Sena chief minister.
Congress has fielded Sarvankar from the Mahim seat. "We were told that (my) ticket has been cut by Joshi and to attack his house," Sarvankar alleged.
Asked who had given the orders, Sarvankar said, "Uddhav ordered the attack on Joshi's house."
However, Sena spokesperson Neelam Gorhe described Sarvankar's allegations as "a result of frustration and the thoughts of an abnormal mind".
"Uddhavji has faced many such ludicrous allegations and come out unscathed. Joshi is like a guru (teacher) to all Shiv Sainiks. After the election results, Sarvankar will realise the folly of his absurd allegations," Gorhe said.
Sarvankar and former mayor Milind Vaidya were aspirants for the Mahim seat. Sarvankar was upset that TV show host Aadesh Bandekar, who joined the Sena in August, was fielded by the party from Mahim.
On September 20, nearly 100 supporters of Sarvankar gathered outside Joshi's house, shouting slogans like 'Manohar Joshi hai hai'.
The agitated supporters turned their ire on TV news camera-persons who were shooting their demonstration and asked them to not do so as it was a 'ghar ka mamla' (internal affair).
Sena sources said resentment has been brewing against Joshi after he took a 'soft' stand about Uddhav's estranged cousin and Maharashtra Navnirman Sena president Raj Thackeray during a meet-the-press programme in the city last week.