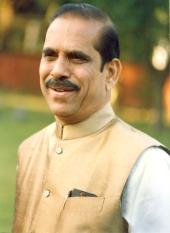 Senior Shiv Sena leader and former Maharashtra Chief Minister Manohar Joshi's residence was ransacked in Mumbai on Sunday by some party workers, who were agitated over the neglect of their favourite local leader, during ticket allocation for the upcoming Maharashtra assembly elections.
According to sources, the outrage was over the demand of ticket to the sitting Member of Legislative Assembly of Dadar constituency.
Joshi was not present in the house when the incident took place and no one was injured.
The Shivsainiks were also reportedly angry over the seat-sharing formula with the Bharatiya Janata Party for the upcoming Maharashtra polls, sources added.
On Saturday, both the parties announced their seat sharing formula, under which the BJP will contest 119 seats and the Shiv Sena will contest in 169 seats, in the state assembly polls.
The election to the Maharashtra assembly will be held on October 13 along with the state polls in Arunachal Pradesh and Haryana.