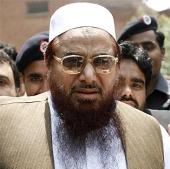 Pakistan's claims about placing Jamaat-ud-Dawa chief and alleged mastermind of the terror attack on Mumbai Hafiz Mohammad Saeed in custody might be yet another false claim, as a senior police official has clarified that the authorities have only 'restricted' his  movement.
Interacting with media persons at a press conference in Rawalpindi, Punjab Inspector General of Police Tariq Saleem Dogar said Saeed has neither been arrested nor put under house arrest, rather the police is providing an extra security cover to the Lashkar-e-Tayiba's founder leader.
Responding to a question, Dogar said involvement of the Research and Analysis Wing in various terror strikes, which have rocked the province in the recent past, is yet to be ascertained.
"The involvement of the Indian intelligence agency in any incident of terrorism in Punjab has yet to be determined as investigations are underway and all those arrested so far are Pakistanis," The Daily Times quoted Dogar as saying.
He also claimed that the Punjab police has solved all major cases of terrorism, including the suicide blast targeting the Rescue 15 building in Lahore and other attacks in Rawalpindi, and has arrested the culprits. 
Saeed was reportedly placed under house arrest earlier this week. The Pakistani authorities had also barred him from leading Eid prayers.
 
Saeed's house arrest came three days after police in Faisalabad registered two FIRs against him under the Anti-Terrorism Act for inciting people to wage Jjihad.
 
While India has continuously been demanding stern action Saeed and has provided Islamabad half a dozen dossiers containing proof regarding his involvement in the 26/11 carnage, Pakistan maintains that there is not enough evidence to prosecute the LeT founder.
India sees Saeed's arrest by the Pakistan government as a face-saving exercise and sources believe that if the Lashkar chief is not punished for the 26/11 Mumbai attack, it will have a negative impact on bilateral relations and ensure limited dialogue between the two countries.
The United States too has asked Pakistan to take action against Saeed. US envoy to India Timothy Roamer had earlier urged Pakistan to punish Saeed.