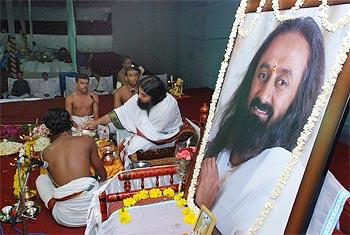 The Art of Living Foundation is celebrating of Navratri with nine days and nine nights of pujas, yagnas and homas performed as per the vedic traditions in Borivili in Northern Mumbai. The intention behind these festivities is to pray for peace. The homas are supposed to purify the environment and honour all aspects of creation.
"These homas are performed to nullify all the misery, sorrow and pain in the world," added priest Sundarmurthi Shivam from the Art of Living Foundation.
The highlight of the celebrations will be the grand Nava Chandi Homa on the Ashtami day. On all nine days, the evenings will be marked by satsangs, spiritual discourses and  discourses on vedic sciences.

The Art of Living Foundation is hosting these celebrations at Sports Complex grounds, Chikuwadi, Borivli (West). They can be contacted at 9221031799.
Image: A puja in progress at the Art of Living foundation's Navratri celebrations in Mumbai.
Photograph: Art of Living Foundation