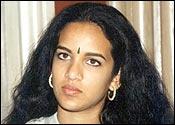 The Delhi police is investigating a case of blackmailing in which sitar-player Anoushka Shankar, daughter of legendary musician Pandit Ravi Shankar, was blackmailed by a man who allegedly accessed her photographs stored in her laptop.
The man, whose identity has not been revealed, has been arrested by the Special Cell of the Delhi police, following investigations in Mumbai.
The man has been remanded to 14 days police custody by the court.
Pandit Ravi Shankar had written to the Home Ministry about the harassment his daughter was facing, and Union Home Secretary G K Pillai forwarded the request to Delhi Police Commissioner Y A Dhadwal, who sent a special team to Mumbai to arrest the man.
The police had registered a case under Section 386 of Indian Penal Code, which relates to extortion by putting in fear of death or hurt, and provides for a maximum punishment of 10 years in jail.
A senior police official said the musician, who lives in the US, had told the police that Anoushka had given her laptop to a service centre in southern Delhi in February.  "We think that the material in the laptop was copied by someone. We interrogated the staff at the service centre. Later, we zeroed in on the Mumbai-based man and arrested him," he said.
The man allegedly sent a series of e-mails to 28-year-old Anoushka, demanding money and threatening to make the photographs public. The alleged blackmailer even asked for Rs 50 lakh in one e-mail.
The police reportedly traced the man's location in Mumbai via his IP address.
However, Delhi police Public Relations Officer Rajan Bhagat told rediff.com, "We still have no information on the arrest of the man. As and when we get it, we would let the media know about it."
With inputs from PTI