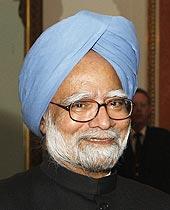 Prime Minister Manmohan Singh, who will turn 77 on September 26, will celebrate yet another birthday mid-air, on board the Air India One, like he did in 2004.
Dr Singh will celebrate his birthday in his special aircraft or at Geneva, the flight's stop- over, while on his way back from the G20 summit in Pittsburgh, United States.

Once the G-20 summit gets over, Dr Singh will have a quiet family get-together on the eve of his birthday. His youngest daughter Amrit Singh has already flown in from New York to join Dr Singh and his wife Gursharan Kaur in the celebrations.