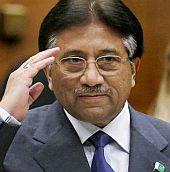 Continuing his animosity with the Pakistan Muslim League-Nawaz chief Nawaz Sharif, former President General Pervez Musharraf has described the former prime minister as a 'closet Taliban'.
In an interview to ABC News, Musharraf called Sharif 'abrasive' and 'confrontational'.
"He (Sharif) has never been on good terms with any President of Pakistan," Musharraf said.
Musharraf said Sharif maintained a close link with extremist groups, as the latter has never said anything against terrorism.
"Even on Pakistan television these days, talk shows are going on saying that he has met Osama Bin Laden five times -- five times before 9/11 -- and he has been financed by Osama. Then, the other element is that he never speaks against terrorism and extremism," The Daily Times quoted Musharraf, as saying.
Sharif has been pushing hard for Musharraf's prosecution under the Article Six of the Constitution.
He has, time and again, accused the former military general of abrogating Pakistan's Constitution by imposing emergency in the state in November 2007.
Sharif also maintains that Musharraf had taken an 'illegal' and 'extrajudicial' step by removing the judges of higher judiciary following declaring an emergency in the country.