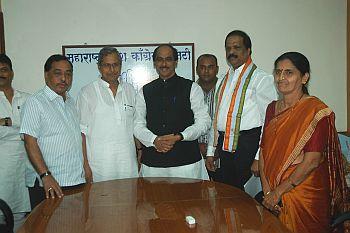 Upset over refusal of nomination from Mahim constituency for the October 13 assembly elections, Shiv Sena MLA from the city Sada Sarvankar joined the Congress on Thursday.

Sarvankar, who was denied ticket to retain the seat he won in 2004, was peeved at that TV show host Aadesh Bandekar, who last month joined Sena, was fielded by the party from Mahim in central Mumbai. Sarvankar joined Congress at a function attended by Industries Minister Narayan Rane and is likely to be fielded by the party in the polls, sources said.

Sarvankar and former mayor Milind Vaidya were claiming the Mahim seat. Last week, Sarvankar's supporters had staged violent demonstrations near senior Sena leader Manohar Joshi's Shivaji Park residence accusing him of being responisble for refusal of a ticket to him. Aadesh was the second TV personality to join Sena after singer and `Indian Idol' winner Abhijeet Sawant.The Maharashtra Navnirman Sena has fielded party general secretary Nitin Sardesai from Mahim.
Image: Sena MLA Sada Sarvankar (2nd from right) joins the Congress. Maharashtra Industries Minister Narayan Rane was present at the function   
Photograph: Sahil Salvi