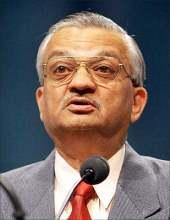 Emphasising that India's hydrogen bomb test Pokhran II was "successful" and had achieved all the desired goals, Atomic Energy Commission Chairman Anil Kakodkar on Thursday said the controversy over the yield was "unnecessary" as the country has deterrence capability of up to 200 kilotons.
"Once again, I would like to re-emphasise that the 1998 nuclear tests were fully successful. We achieved all objectives in toto," said Kakodkar, who was the director of Bhabha Atomic Research Centre in 1998.
"It has given us the capability to build deterrence based on both fission and thermonuclear weapon systems from modest to all the way up to 200 kilotons, and possibility of meeting all our security requirements," he said at a joint press conference with Principal Scientific Advisor to the Government R Chidambaram.
Kakodkar and Chidambaram, the chief architect of Pokhran-II, were speaking on the controversy sparked off by a former Defence Research and Development Organisation scientist and a coordinator of the nuke tests, K Santhanam, who has claimed that the thermonuclear device (H-bomb) test was a failure.
Describing the May 1998 thermonuclear test as "perfectly successful", Chidambaram said several scientific peer reviews to explain the efficacy and yield were published in the last 11 years.
"We scientists cannot go beyond that as proliferation sensitive information cannot be divulged," said Chidambaram, also a former AEC Chairman.
Both Kakodkar and Chidambaram termed "unnecessary" the row triggered by the remarks of Santhanam and said "we are perplexed by the controversy".
"We are saddened that two of our colleagues used heavy rhetoric which is not substitute of good science," said Chidambaram, who was accompanied by several BARC scientists, including its director S Banerjee.
"Culture of science is to have discussions in the scientific fora or peer reviewed scientific journals and they (Santhanam and former AEC Chairman and India's top physicist P K Iyengar) should have understood the proliferation (given the) sensitive nature of the information," he said.
"No one in this business would do that and our BARC scientists are doing progressive work in the strategic area for the past 11 years and we are confident about the design of the device," Chidambaram said.
Santhanam had also demanded an enquiry by an independent panel of experts into the test results.
Explaining how the two-stage device needed a thorough understanding of advanced seismology and radiochemistry, Chidambaram said, "Our results were so accurate that we disclosed the yield on the same day of the explosion, which no other country has done as science has evolved in the last two decades."
Image: