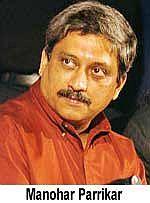 Former Goa Chief Minister Manohar Parrikar, who created a controversy with his alleged remarks comparing senior Bharatiya Janata Party leader L K Advani to a "rancid pickle," on Wednesday said the interpretation of his remarks in Konkani were "twisted."
"It has been brought to my notice that an interview given by me to a local Konkani television channel has been twisted and maliciously blown out of proportion by a section of the media. This probably has occurred as the interview is in vernacular Konkani language," Parrikar said in a statement.
Parrikar was in the eye of a storm when he reportedly suggested on Tuesday that Advani's innings in politics would come to an end in a year or two, and allegedly drew an analogy with "a pickle which takes a year to mature. But if it is kept for two years or so, it gets rancid."
BJP had gone into damage control mode soon thereafter and said Parrikar had compared Advani to cricketer Sachin Tendulkar, who was improving with experience.
In Wednesday's statement, Parrikar further said, "I wish to clarify that reports appearing in national media based on twisted interpretation of my interview are fully unfounded and baseless."
The leader of opposition in the Goa assembly further said, "I hold Advani in great personal esteem as reflected throughout my said interview and any other inference of my interview is baseless and denied."