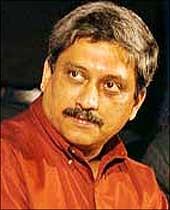 Bharatiya Janata Party leader and former Goa chief minister
Manohar Parrikar
created a stir recently when he reportedly compared BJP patriarch L K Advani to an ageing pickle.
Discussing the issue of Advani stepping down as Leader of the Opposition, Parrikar reportedly told a television channel, 'Sometime, he will have to stop playing. It is like a pickle which takes a year to mature. But if it is kept for two years or so, it gets rancid.'
Parrikar's comment comes at a time when the BJP confronts its worst crisis in years. The Indian Institure of Technology alumnus is considered to be in the running for the BJP president's post after Rajnath Singh steps down at the end of this year.
In an interview with rediff.com's Vicky Nanjappa, Parrikar discusses how the BJP can overcome its ongoing crisis.
Do you think the BJP leadership needs to change?
We will have to wait and watch. As far my knowledge of the BJP's constitution goes, no president can continue for a second term. I hope that makes it clear.
What about L K Advani? There has been a demand that it is time for him to step down as well.
Advani is a seasoned leader and he has a lot to offer to the party. In fact, he has done a lot to build up the party. He has been the best leader for the BJP as far as integrity and character are concerned.
However, if the situation warrants a change and Advani has to step down, then he cannot leave the party completely. His guidance and advice for the well-being of the party is very important. He has to stay on as a mentor and a guide.
Party cadres feel elderly leaders should be replaced with younger ones. Do you share this view?
As far as the president is concerned, there has to be rotation as per the constitution of the party. We can't do away with older leaders since their guidance is very important to us. But there is a need to project younger faces for the future.
You recently compared Advani to an ageing pickle and said his political career is almost over.
That is not what I said. I don't recall saying anything of that sort. All I tried to say is that even if there is a change of guard, we need Advani to guide us.
Your name has been proposed to succeed Rajnath Singh.
That is news to me.
Would you consider taking up the post?
I don't talk through my hat. I don't believe in discussing something that is not on the anvil. Moreover, I have not pushed anyone in the party for the post either.
Hypothetically, would you take up the post if it was offered to you?
My attitude is very straightforward and clear. I would like to stay on in local politics. Hope that answers your question.
Do you think that the BJP will be able to extricate itself from this mess or will it disintegrate?
There is turbulence on every flight. But does every aircraft crash? What the party has been facing lately is not a serious problem at all. There are certain issues and mistakes from which we all have to learn and I am sure that our party too will do so. These problems are short-lived.
The BJP will not disintegrate, no matter what.