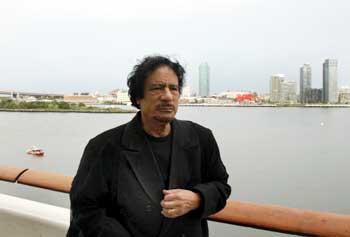 Amid clear signs that controversial Libyan leader Moammar Gadhafi was "unwelcome" to pitch his trademark Bedouin tent in New York, his government has erected a camp for him in the city's suburbs as he arrived in New York to take part in the annual UN General Assembly session.
The tent has been erected on a property, apparently rented from American business magnate Donald Trump in Westchester County, New York.
Westchester County police confirmed the tent was set up for Gadhafi in Bedford, CNN reported.
67-year-old Gadhafi often takes an ornate Bedouin tent with him on foreign trips, using it to entertain his guests and hold meetings.
New York state Senator Vincent Liebell also said that Gadhafi had rented the property.
"He's not going to have many fans in Bedford or Westchester County, certainly not me," the Senator said. "There's not going to be any welcome mat for him in Bedford."
US House of Representative member Nita Lowey said that Gadhafi had shown a lack of remorse for the Lockerbie bombing and was "unwelcome throughout the New York area."
Image: Gaddafi stands near a railing during a visit to the United Nations headquarters in New York on September 22, 2009.
Text: PTI