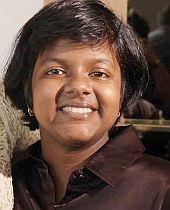 When over 100 heads of States and governments, including US President Barack Obama, gather at the United Nations for the Climate Change Conference on Tuesday, a 13-year-old girl from India will have the singular honour of addressing the assembly, representing the voice of the world youth on the issue.


Yugaratna Srivastava of Lucknow, who was sensitised to environmental protection in sixth grade in St Francis School in Shamli, Uttar Pradesh, says that world leaders must recognise the energy and potential, which lies in children and youth.
"This age group is just like flowing rivers and they make their own way in the direction in which they march," she said.


If given a chance, Yugaratna wants to tell US President Obama, who is also her role model, how much children and youth all over the world are gearing for a better environment and how energetic they are.


"I want to tell (President) Obama that the youth and children are with the politicians and that we are ready to provide full support. I want him to listen to us, to our voices," she said during a press conference in New York on Tuesday morning ahead of the Climate Change meeting beginning on Wednesday.

Despite her wish, the United States is most unlikely to make any firm commitment on Wednesday for reducing its greenhouse gases mission level anytime soon. The US is the second largest emitter of green house gases in the world after China.

According to news reports, Obama's chief climate change negotiator Todd Stern said on Monday that the US does not want to 'put the cart before the horse,' implying that it does not want to sign a binding international agreement before there is a domestic consensus on the issue.

The US has also laid the blame on developing countries like India that has far less greenhouse gas emissions than the US or China that lead the pack for the state of affairs.

But Yugaratna said she does not care whether the fault lies with the developed or developing countries.

"It is not about developed and developing countries whatsoever. It is just about one mother earth. They (the politicians) have to take action because children have to live on this earth. They have to make a good deal and enforce it, and there has to be action-oriented programme at the Copenhagen," she said.

In response to a question at the press conference, Yugaratna said she is doing all this for the future of children of the earth.

"I am trying to doing something for our generation and for the mother earth. The future is all about mother earth," she said.

Yugaratna, who was very excited at the prospect of addressing the UN, said she was proud to be an Indian to be able to address this meeting.
"I am going to urge the leaders to involve youth and children in the decision making process," she said.

Photograph: Jay Mandal