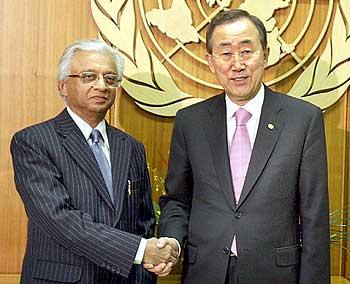 Ahead of the climate summit next week, a senior Indian officials has met UN Secretary- General Ban Ki-moon to discuss the country's stand on climate change.
During talks with Prime Minister Manmohan Singh's Principal Secretary T K A Nair, Ban inquired about India's views on climate change both in terms of the developments at the national level and the climate summit to be held at the headquarters, next week, Indian authorities said on Thursday.
"The principal-secretary gave the secretary-general a very detailed presentation of India's views on various issues relating to climate change," Hardeep Singh Puri, India's envoy to the UN, told PTI.
Nair pointed out India's concern for climate change as well as its priorities in terms of enormous developmental challenges, the need for energy security, and dependence on fossil fuels for many years to come. The Indian official also noted that New Delhi was looking to access clean technologies at affordable prices and asked Ban to persuade developed countries to share techniques.
"There was a very detailed discussion on our national plan on climate change," Puri added. Nair informed the UN chief that work relating to the implementation of India's national plan for climate conservation was on and some parts had reached an advanced stage.
Ban also noted that India is uniquely placed in terms of its experience and national expertise in dealing with climate change, Puri said. Nair said that India would be happy to share its national experience with other countries that were less fortunately placed.
The climate change summit will be attended by the Foreign Minister S M Krishna, Environment Minister Jairam Ramesh and Prime Minister's special envoy on climate change Shyam Saran. The purpose of the summit is to generate the political momentum ahead of the main climate change conference that will be held in Copenhagen in December. This conference is expected to yield a climate treaty that will succeed the Kyoto Protocol.
Nair told Ban that India's willingness to cooperate with the international community to make Copenhagen conference productive had to be balanced by developmental challenges faced by the country.


Image: TKA Nair, Principal Secretary to the Indian Prime Minister calls on UN Secretary General Ban Ki-Moon at the UN in New York.

Photograph: Jay Mandal/On Assignment