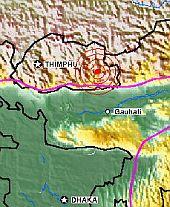 Parts of northeast India on Monday felt the tremors of an earthquake that had its epicentre  in Bhutan.
A source in the earthquake observation centre at North East Institute of Science and Tenchnology (NEIST) of the CSIR located at Jorhat in Assam informed that the quake was measured at 4.7 on the Richter scale though initial reports put it at 6.3 on the scale.
The earthquake had its epicenter in Bhutan at a shallow depth of about 10 kilometer.

Since the epicenter was at a shallow depth, its intensity was felt more in places like Guwahati (136 km from the epicenter) where some high-rise buildings developed minor cracks.

The quake lasted for about 40 seconds in Guwahati where the sunny day turned overcast immediately after the earthquake.

Six earthquakes of moderate intensity have jolted the northeast since August 11, raising concerns among the people.
 
The tremors of Monday's quake were felt as far as Tawang in Arunachal Pradesh, where it lasted for about seven seconds. In places like Nalbari and Baksa in Assam, close to Bhutan border, the intensity was higher. However, there were no reports of any damage or casualty.

The region experienced its last major earthquake in 1950, when the tremors left behind a trail of destruction besides altering the topography in many parts.