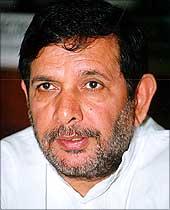 Terming the austerity drive launched by the Congress-led government as "hypocrisy", Janata Dal-United national president Sharad Yadav on Saturday said if the Congress was serious about the issue, it should bring a bill to this effect in the Parliament.
"The austerity drive of the Congress is hypocrisy," he said.
He said the United Progressive Alliance was in power for the last five years, but never gave a thought to put an end to the lavish expenditure all this while.
"Why all of a sudden is it going for austerity measures," he asked. "The party should bring a bill to this effect in the Parliament if it is serious about austerity."
The JD (U) president also said the UPA government was not serious over bringing back the black money stashed in Swiss banks.
He said the Indian government should try to get the names of people having accounts in Swiss banks, just like the US government had done. He said the UPA government was giving contradictory remarks on the issue, and statements made in the Parliament were different from those made outside.
About his party's poor showing at the assembly by-elections in Bihar, the JD (U) chief said it was the result of the denial of tickets to the kin of nine politicians, as his party stands against promotion of such (family) politics.
Image: Janata Dal-United president Sharad Yadav