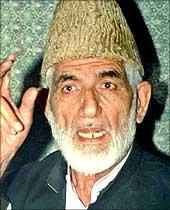 Separatist leaders in Jammu and Kashmir on Thursday rejected Prime Minister Manmohan Singh's statement alleging them of stepping up violence with the help of elements from across the border.
"Kashmiris are struggling peacefully for their birthright but India uses its military power to suppress the peaceful and justified struggle," chairman of hard-line faction of Hurriyat Syed Ali Shah Geelani said in reaction to Dr Singh's statement.
"India is trying to divert the attention from the rights' violation in Kashmir. By doing so, it is deceiving its own and blaming separatists for the violence," he said.
Echoing the sentiments of Geelani, chairman of the moderate faction of Hurriyat Mirwaiz Umer Farooq said the people of Kashmir are demanding their right in a democratic way, but India has always maintained a policy of 'rigidity' and uses power, which forces the youth to take up arms.
He said, "The time has come for India to adopt a realistic approach and prepare itself for sincere and serious talks to resolve the issue".
Defending the ongoing struggle in Kashmir, Mirwaiz, who was recently elected the chairman of Hurriyat for next two years, said, "It is the peoples' movement".
"It is not because of a party or an individual leader. People are with the movement for a cause and India should realise this fact," he said.
Chairman of Jammu and Kashmir Liberation Front Mohammad Yasin Malik also strongly reacted to the statement. He said Kashmiris believe in a peaceful struggle and the ceasefire announced by the JKLF in 1994 was solid proof of the same.
Malik asked India to take the separatist leadership into confidence and take practical steps to find out ways for the resolution of Kashmir issue and return of peace in the subcontinent.
Syed Salahuddin , the chairman of United Jehand Council and supreme commander of Hizbul Mujahideen, in a statement released to the local news agencies, said India was fully responsible for the ongoing turbulence in Kashmir.
Criticising the PM's statement, he said, "The ongoing movement in Kashmir is a peoples' movement who are up in arms against the forced military occupation by India".