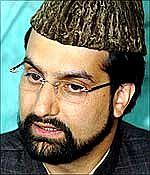 Separatists on Thursday hailed Pakistan's statement that an "independent Kashmir" could pave the way for long-lasting peace in South Asia, calling it an acknowledgement of the sacrifices made by Kashmiris and asked New Delhi [
Images
] to follow suit.
"It is our conviction to attain freedom. The countless graveyards across Kashmir bear testimony to the aspirations of Kashmiris. We have all along stood for an independent Kashmir," pro-independence Jammu and Kashmir [ Images ] Liberation Front vice president Bashir Ahmad Bhat said on Thursday.
Pakistan on Wednesday said an "independent Kashmir" could pave the way for long-lasting peace in South Asia.
"We want an independent Kashmir. We want the Kashmir issue to be resolved in accordance with the wishes of the people," Pakistan Foreign Office spokesman Abdul Basit told mediapersons in Islamabad [ Images ] on Wednesday.
Bhat said Pakistan has accepted the reality and, "We hope that India [ Images ] would follow suit to pave the way for a lasting solution to the vexed dispute."
Reacting to the statement, Chairman of moderate Hurriyat Conference Mirwaiz Umer Farooq said Pakistan has always been flexible on Kashmir and doesn't want to see itself as a hurdle in its resolution.
"Leadership of Pakistan has realized that solution to the issue lies in respecting the aspirations and sentiments of its people. Pakistani government's statement is welcome," Mirwaiz said, adding, "Slowly but steadily the sacrifices of Kashmiris are being acknowledged."
Image: The sacrifices of Kashmiris are being acknowledged, says Chairman of moderate Hurriyat Conference Mirwaiz Umer Farooq (in the pic)