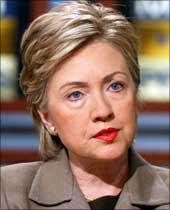 External Affairs Minister S M Krishna will be meeting Secretary of State Hillary Clinton in New York on September 25, to apprise her about the Indian concerns over diversion of US aid by Pakistan for strengthening its defence against India, according to sources.
Sources told ANI that the United States has already conveyed to India through diplomatic channels its concerns about the diversion of aid. India has been voicing its concern over the diversion of US aid. A recent admission by former president Pervez Musharraf in an interview to news channel further vindicated India's blame.
Krishna will represent India at the UN General Assembly session and reach New York on September 22 on a six-day visit. He is also likely to meet his Pakistani counterpart Shah Mehmood Qureshi there amid a growing chill in ties between the two neighbours.
Foreign Secretary Nirupama Rao will also meet her Pakistani counterpart Salman Bashir in New York to review Islamabad's action against the perpetrators of the Mumbai terror attacks.
Prime Minister Mannmohan Singh will also be in the US around that time to attend the G20 summit of the world's major and emerging economies.