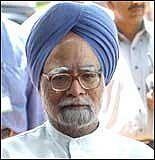 Prime Minister Manmohan Singh on Tuesday termed as "worrisome" attempts by secessionist and militant groups in Jammu and Kashmir to make common cause with "outside elements" to create an impression of turmoil in the state and said such a situation must not be allowed to develop.
Singh also said infiltration from across the Line of Control and also via other routes such as Nepal, Bangladesh and the sea is "going up."
Addressing the directors general and ispectors general of police's in New Delhi on the concluding day of the two-day conference organised by the Intelligence Bureau, he said there were reasons to be satisfied that both assembly and Lok Sabha elections in the state were held in a peaceful manner and that the level of violence is "perhaps at its lowest levels" since the beginning of insurgency in the late 80's.
"But there are certain developments that are worrisome. Infiltration across the Line of Control and also via other routes such as Nepal, Bangladesh and the sea is going up. Encounters with armed militants have become more frequent in recent weeks and months," he told the conference attended by Home Minister P Chidamabaram and National Security Advisor M K Narayanan.
Prime Minister also complimented Union home minister P Chidambaram for doing excellent work in leading the security forces in the fight against terrorism.
In an obvious reference to Pakistan, the Prime Minister said secessionist and militant groups within the state were again attempting to make common cause with outside elements and have embarked on a series of protest movements.
Singh said the intention of such groups was apparently to create an impression of widespread turmoil in the state. "We must not allow such situation to develop. It is imperative that these efforts are contained and checked," he stressed.
The PM also expressed concern over increasing incidents of Naxal violence which he termed as the "gravest internal security threat."
"I have consistently held that Left wing extremism poses perhaps the gravest internal security threat that we face. We have not achieved as much as success as we would have liked in containing it. It is a matter of concern that despite efforts, the level of violence in the affected states continues to rise," he said.
Contending that Naxalism cannot be treated as a law and order problem, he said dealing with Maoists requires a "nuanced" strategy.
"Despite its sanguinary nature the movement manages to retain a section of the tribals and the poorest of the poor in many areas. It has influence among sizable sections of civil society, the intelligentsia and youth. It still retains a certain élan. All this adds to the complexity of the problem," Singh said.
He said the situation in the North-Eastern part of the country is "far from comfortable" especially in Manipur and Assam where current levels of violence were cause for concern.
However, Dr Singh's speech was lackluster according to some of the leading exponents who have led the forces with distinction in anti-insurgency operations.
With inputs from PTI