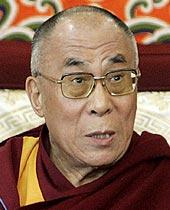 Top aides to United States President Barack Obama on Monday held talks with the Dalai Lama ahead of the exiled Tibetan spiritual leader's planned US visit in October.
Led by Valerie B Jarret, White House adviser and assistant to the President for inter-governmental affairs and public engagement, Obama's three senior aides had a two-hour closed-door meeting with the Dalai at his residence at Mcleodganj, about 22 km from Dharamsala.
The meeting at the Tibetan government-in-exile's headquarters at Dharamsala in Himachal Pradesh's Kangra district also comes a few weeks before Obama leaves for China. The Tibetan temporal head's spokesman at Dharamsala Tenzin Taklha declined to divulge the details of Dalai's meeting with the US delegation, which is the highest-level official US group to travel to Dharamsala since March 2008, when US House Speaker Nancy Pelosi met the 73-year-old Nobel Laureate, following a wave of unrest in Tibet.
Other members of the US team were Maria Otero, Under Secretary for State for Global Affairs and Special Co-ordinator for Tibetan Affairs designate in the US State Department and Michael Strautmanis, Chief of Staff to the Assistant to the President for inter-governmental relations and public liaison.
Considerable significance is being attached to the meeting since the Dalai will be in the US and he hopes to meet Obama before the President leaves for China. The US team had a meeting with the Tibetan government-in-exile Prime Minister Samdhong Rinpoche on Sunday.
Though the office of the exile government's prime minister described it as a 'courtesy meeting', the presence of the Dalai's special envoy Lodi Gyari, who has been part of talks with China since 2002, made it significant.
The Tibetan spiritual leader, who returned home on Sunday evening from a European tour of Slovakia and the Czech Republic, is slated to visit Washington next October for a Mind and Life Conference and a teaching session. It is speculated that he will meet the US President during the visit. Obama is scheduled to make a trip to China in November this year.
The visit of US officials assumes significance in view of Obama's optimism on the talks between the Dalai Lama's representatives and the Chinese officials. The Tibetan temporal head's representatives have so far held eight round of talks since the resumption of dialogue with China.
But they failed to bear any results with the Chinese government rejecting the memorandum on genuine autonomy for Tibet. China regards the Dalai Lama a separatist and has stepped up pressure on world leaders, including Obama, against meeting the Buddhist leader.
The Buddhist leader fled to India 50 years ago as China crushed an abortive uprising in Tibet.