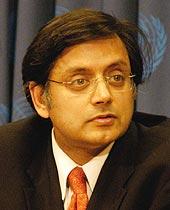 India on Monday said it was not surprised over former Pakistan President Pervez Musharraf's admission -- of use of United States' military aid against it during his tenure -- and asked countries providing such help to be 'extremely responsible'.
"It doesn't come as a surprise. We have been arguing for some years now that the only problem we have with the US military aid to Pakistan is its misuse against us," Minister of State for External Affairs Shashi Tharoor said when asked about Musharraf's remarks.
Noting that India welcomes any support by foreign countries to Pakistan to fight terrorism, he said, "But we do not feel that such assistance should be turned around and used against us. We pose no threat to Pakistan and we find this kind of diversion is neither in the interest of the sub-continent nor in the interest of those who are giving assistance."
Confirming India's fears, Musharraf had said that the military aid provided by the US to Pakistan for the war against terrorism was used during his tenure to strengthen defences against New Delhi.
"The only way forward must be for those who give assistance to Pakistan to be extremely responsible when it comes to monitoring the use of the assistance to ensure that assistance of military nature is used for the purpose for which it is intended and not used for the completely irrelevant purpose of strengthening Pakistan's military ambition against this peace-loving country," Tharoor said.