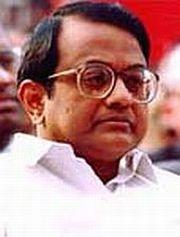 Pakistan-based groups like Lashkar-e-Tayiba and Jaish-e-Mohammed persist in their attempts to launch terror attacks in India thus posing a "grave" challenge, Home Minister P Chidambaram warned Indian police officials on Monday.
"Terrorist groups including LeT and JeM persist in their endeavour to launch terror attacks. They continue to innovate new ways and means of deniability. They find support among disgruntled elements within India," Chidambaram said.
Inaugurating a three-day long conference of directors general and inspectors general of police organised by the Intelligence Bureau, Chidambaram said cross-border terrorism "is a matter of deep concern" and policing in India was always a challenge and after "26/11, the challenge has become more grave".
"Let me state our position clearly. On terrorism, our stance is zero tolerance. We shall raise our level of preparedness to fight any terror threat attack and, in the case of threat or attack, our response will be swift and decisive," the home minister said.
He said the security agencies had neutralised 13 terror modules in the first six months of this year.
Describing the 26/11 attacks as a "game changer" he said, "We meet under circumstances that pose formidable challenges to the security of the nation. The attacks in Mumbai on November 26 last year were a game changer. We can no longer afford to do business as usual," he said.
The home minister said the country's security faced many threats from sources like terrorism, Left-wing extremism and insurgency in certain states.
On Left-wing extremism, Chidambaram said it was purporting to be a radical form of communism.
"Today, various groups adhering to this outdated ideology have their pockets of influence in 20 states," he said, adding that the banned Communist Party of India-Maoist was the most potent Naxal group with a presence in 17 states and a 90 percent share in Naxal violence.
In a bid to expand their network and influence, Maoists have been seeking alliances with secessionist and terrorist elements in the country, the home minister said.
"It has been keenly seeking ideological resonance and tactical understanding with the Northeast insurgents and has begun to lend support to their secessionist ideology and demands," he said.
Image: Home Minister P Chidambaram