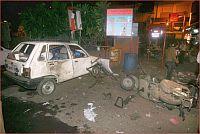 As the September 13 terror attacks in the national capital completes one year on Sunday, Jahir Ahmed, who lost his son in one of the serial explosions, was still moving from pillar to post to get the compensation.
Ahmed's son Tahir Ahmed, who worked as a mechanic, was critically injured in the explosion near Barakhamba in central Delhi and died after remaining in the ICU of Ram Manohar Lohia Hospital for 13 days.

Initially, a compensation of Rs 50,000 was announced for Tahir's injury. But, after his death, his parents returned the amount and claimed a similar compensation of Rs 5 lakh announced for the families of the dead.
According to officials, a cheque carrying the compensation amount of Rs 5 lakh was sent to Tahir's permanent address in Jhansi in Uttar Pradesh. The local authorities were directed to deliver the check to the concerned family after proper verification.
"But, by the time the local verification was completed, the cheque had expired and hence was not delivered to me," Jahir, an electrician, said.
When he approached the Divisional Commissioner's office in Jhansi, he was told that the cheque was sent back for renewal to the office of the Sub-Divisional Magistrate in New Delhi district.
He said he was pursuing the matter with the authorities in both Jhansi and Delhi for the past five months but is "still waiting for the cheque."
Image: Blast site at Greater Kailash in New Delhi on September 13, 2008