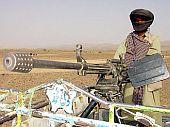 In yet another evidence of Pakistan's flip-flops, Islamabad has for the first time admitted that it has not handed over any dossier regarding Baloch insurgency to India.
In an interview with Outlook magazine, Foreign Minister Shah Mehmood Qureshi, in an apparent volte-face, said Pakistan actually never handed any dossier to India during Prime Minister Manmohan Singh's meeting with Yousuf Raza Gilani on the sidelines of the NAM summit at Sharm-el-Sheikh in July.
'No, we didn't. Actually, we flagged the issue on Balochistan. We asked for a positive attitude and asked for non-interference inside Balochistan,' The Nation quoted Qureshi, as saying.
While Islamabad, till now, has continuously been claiming that it has handed a dossier to India regarding latter's involvement in the Baloch insurgency, New Delhi has out rightly rejected the claims.
Following Pakistan's 'baseless' claims, the UPA government faced severe criticism from the opposition for allowing some damaging concessions to the neighbouring country.
Prime Minister Manmohan Singh had to clarify the government's stand in parliament and he said that no such dossier was given by Pakistan during the meeting in Egypt.
"No dossier on Balochistan has been handed over to me," Dr Singh said during his speech during the monsoon session of the Lok Sabha.
Trying to corner the government over the alleged 'sell off' to Pakistan in Egypt, senior Bharatiya Janata Party leader Yashwant Sinha alleged that India had committed a blunder by agreeing to de-link action against terror by Pakistan to the resumption of the composite dialogue.
Pakistani media had described that the Baloch dossier's claims as true and added that it had been presented to Prime Minister Manmohan Singh with details of India's alleged role in fomenting trouble in Balochistan and other areas.  
According to the Pakistani media, Prime Minister Yousaf Raza Gilani himself mentioned the dossier's existence.