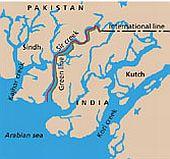 The United Nations is keeping mum on the protracted dispute between India and Pakistan over the ownership of Sir Creek even after the expiry of the deadline May 2009 deadline set by the world body to resolve the issue.
The UN had warned the two nations that after expiry of the deadline, the disputed area of sea would convert into the international waters.
The UN fixed this deadline in 1982, but after a lapse of 26 years, Pakistan and India have failed to settle this issue as a result of which the fishermen of both the countries are in serious trouble as they are being detained frequently and put into jails in violation of the UN laws while their boats and catch are being impounded.
Pakistan Fisherfolk Forum chairman Muhammad Ali Shah said at present, about 800 fishermen belonging to Pakistan and India were languishing in jails of the two countries. A majority of them were nabbed from the disputed waters of Sir Creek, he added.
The United Nations law does not allow the arrest of fishermen and seizing of their boats, Shah said, adding that both countries are violating UN laws and adding insult to the fishermen miseries, who belong to the most poor segment of the society.
Why are maritime patrols of India and Pakistan capturing fishermen from Sir Creek now when the disputed part of the sea has become part of International Waters from May 2009, after the expiry of the deadline given by the UN, Shah argued.
He pointed out that some Pakistani fishermen were languishing in the Indian jails for many months although they have completed their tenure, The Nation reported.
Both India and Pakistan share the water and the resources of the Arabian Sea. Pakistan has its coastline of 1050 km while the India has a longer coastline of 7417 km. Due to dispute over the ownership of Sir Creek, no permanent and visible demarcation of sea has been made by the two countries, Shah said.
Since its inception in 1998, the PFF is struggling against such arrests of the fishermen of both countries.