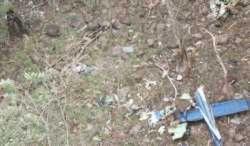 The Central Bureau of Investigation will probe the helicopter crash that killed former chief minister Y S Rajasekhara Reddy, the Andhra Pradesh government announced on Monday.
A two-member expert committee has also been appointed to investigate the incident from all angles, State Home Minister P Sabita Indra Reddy told media persons in Hyderabad.
Chief Minister K Rosaiah, who held a high-level meeting to discuss the helicopter tragedy, spoke to Union Home Minister P Chidambaram and requested that a probe by the CBI be ordered into the incident.
"The Union Home minister readily agreed to the CBI inquiry and conveyed the decision to the chief minister," Sabita Reddy said after the meeting.

She, however, added that the probe being conducted by the State Crime Investigation department would also continue.
"Since, many doubts are being raised over the helicopter tragedy, we decided to conduct a thorough inquiry from all angles so that the truth comes out," she said.
The expert committee comprises retired IPS officer and VIP Security expert M R Reddy and former DGCA H S Khola. The Committee would have to submit its report in 60 days, she said.
Reddy's Bell 430 chopper went missing September 2 morning at about 9.35 am and could only be located the following day after a night long search operation by different units of security personnel, including Army commandos, IAF's Sukhoi-30, and 5,000 CRPF personnel.
The chopper's wreckage was discovered atop a hill about 40 nautical miles from Kurnoool town.
Along with YSR, four others -- Dr P Subramanium, the Special Secretary to the Chief Minister; ASC Wesley, Chief Security Officer and two pilots Group Captain SK Bhatia and Captain MS Reddy -- died in the crash.