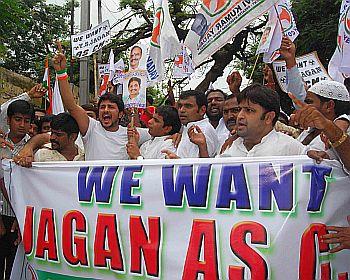 The power struggle in Andhra Pradesh Congress after the death of Chief Minister Y S Rajasekhara Reddy took an ugly turn on Sunday when the supporters of YSR's son Jaganmohan Reddy disrupted the party's condolence meeting.

The meeting ended abruptly with the Chief Minister K Rosaiah, state Congress president D Srinivas and other senior leaders leaving the venue at Gandhi Bhavan.
The supporters, who were demanding that YS Jaganmohan be made the next chief minister in place of his father, prevented the Pradesh Congress Committee President D Srinivas from speaking by shouting slogans and creating noisy scenes. The meeting hall rented with the slogan of 'DS (D Srinivas) Go Back'.
As it became impossible for Srinivas to continue the speech, he stopped midway, announced the end of the meeting and left the place. He was followed by the Chief Minister Rosaiah, Union minister S Jaipal Reddy and other senior leaders.
Late YSR's close friend and advisor KVP Ramachandra Rao and younger brother YS Vivekananda Reddy tried to reign in the supporters and restore the calm but could not succeed.
Jaganmohan Reddy, who along with the other family members returned from Kadapa on Sunday morning, did not attend the meeting. In his emotional speech during which he repeatedly broke down, Ramachandra Rao appealed to the Jagan supporters to exercise restrain. "Your hasty actions will only harm Jagan," he said.
Recalling his 40-year long friendship, Dr Ramachandra Rao said, "Our bodies were separate but our soul was one".
"I have come here as the messenger of YSR. If you want YSR's soul to rest in piece, please stop the protests," he said.
The tension brewing with in the party over the issue of succession to YSR erupted in to open after last four days of campaign by Jagan's supporters to bring pressure on the party high command to make Jagan the chief minister.
But the party seniors assessed that such show of strength and attempts to put pressure on the party's central leadership will boomerang on pro-Jagan group and hit his chances.

Photograph: SnapsIndia | Reportage: Mohammed Siddique