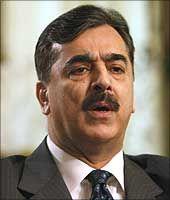 Stressing the need for resumption of bilateral talks with India, Pakistan Prime Minister Yousuf Raza Gilani has said Islamabad wants relations with New Delhi on an equal footing.
'We want relations with India on an equal basis and it is our resolve that we will not allow our soil to be used for terrorism. Therefore, we want a proper dialogue to be resumed as in the present situation, the terrorists are getting benefit of the situation,' Gilani said.
Interacting with media persons at the Governor's House in Karachi, Gilani said tensions between India and Pakistan would benefit the militants, so it was important for both countries to restart the peace process as soon as possible.
'We want relations with India on the basis of equality. If Pakistan and India do not enter into negotiations for the betterment of the region, then someone else would get the benefit. If there will not be bilateral talks, the terrorists will take advantage of it,' The News quoted Gilani, as saying.
Commenting on the massive reshuffle in the bureaucracy, Gilani defended his action saying it was important to ensure efficiency, integrity and quality in the system.
Gilani has revamped the top bureaucratic posts, replacing over a dozen federal secretaries in several ministries with over 50 civil servants.
In what is being touted as the single largest grade-22 promotion in many years, secretaries of interior, information, industries, privatisation commission, labour, and special secretary of finance are among those who have been replaced with the newly promoted officers. 
However, the move has being criticised by many civil servants, as they believe the reshuffle reeks of nepotism and favouritism.