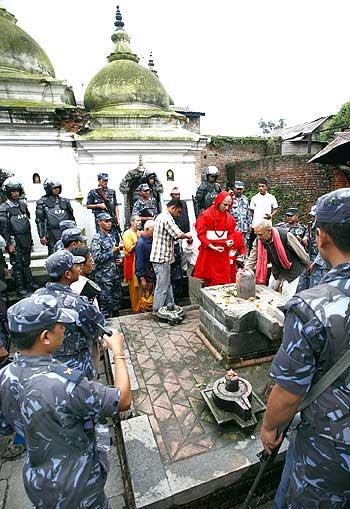 Minister of External Affairs S M Krishna on Saturday reacted strongly to the attack on two Indian priests of the famous Pashupatinath Temple in Kathmandu, and asked the Nepal government to ensure the safety and security of the priests.
Speaking to reporters, Krishna said "The government of India is in touch with the Nepal government and has asked it to ensure the security of the priests of Pashupatinath Temple."
Krishna said that the authorities of the Pashupatinath Area Development Board informed him that the board has also deployed security cover in and around the temple premises and also provided security to the priests.
Krishna also said, "India shares a historical bond with Nepal, in Kashi the priest from Nepal perform the poojas and in Pashupatinath, it is the Indian priests. It is a tradition being followed from centuries."
"The Maoist elements in that country are pressurising the Nepal government and temple authorities against continuing the tradition," he added.
Meanwhile, in Kathmandu, taking a serious view of the incident, Indian Ambassador to Nepal Rakesh Sood took up the matter with Nepal Home Minister Bhim Bahadur Rawal and Culture Minister Sarat Singh Bhandari on Saturday.
The Nepal ministers have assured Sood that steps will be taken to ensure the safety of the priests.
However, unfazed by the attack, the two priests performed the daily rituals at the 5th century Hindu shrine on Saturday.
Earlier, it was reported that the two priests -- Girish Bhatt and Raghavendra Bhatt -- were severely thrashed and their clothes and sacred thread cut by dozens of Maoists on Thursday in Kathmandu. The priests were badly injured in the attack.
The police and temple authorities, with the help of the locals, rescued the priests from the attackers, sources said. 
The priests, hailing from Karnataka, today offered prayers and carried out other daily rituals at the temple.
Image: Raghavendra Bhatt (in red), is escorted by security personnel while offering prayers in the premises of Pashupatinath temple in Kathmandu | Photograph: Shruti Shrestha/ Reuters
Additional inputs from PTI