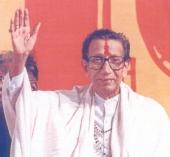 A Bihar court has issued a non-bailable arrest warrant against Shiv Sena supremo Bal Thackeray for allegedly making uncharitable and inflammatory remarks against Biharis in his party mouthpiece 'Saamna'.
Sub-divisional Judicial Magistrate (Bhojpur) Rakesh Pati Tiwari ordered issuance of the NBW against the Sena founder after Thackeray failed to appear before him in compliance with his July 7 order.
Tiwari had issued a bailable arrest warrant earlier, asking Thackeray to present his side on a complaint filed by a senior advocate Rajesh Kumar Singh in the court in 2008, accusing the Sena leader of making comments against Biharis in the party mouthpiece.
As Thackeray failed to comply with his order either by presenting himself or his lawyer before the court to explain his position, the judge ordered the issuance of the NBW on Friday