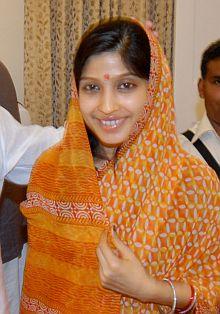 Samajwadi party chief Mulayam Singh Yadav's daughter-in-law Dimple is the first lady from the former Uttar Pradesh chief minister's family to take a plunge into politics.

The 33- year old wife of Mulayam's only son Akhilesh Yadav is all set to enter the Lok Sabha fray in Firozabad from where she was hoping to make her political debut from the seat vacated by her husband.

Akhilesh, who got elected from two parliamentary constituencies, chose to vacate the Firozabad seat, thereby necessitating a bye-election in October or November there.

Having been a housewife ever since she was married to Akhilesh exactly a decade ago, a publicity shy Dimple was yet to come out before the media.

Other than interacting with local village folk, particularly women, in and around Mulayam's hometown in Saefai in Etawah district of UP, Dimple was neither known as a socialite nor as someone showing the least inclination in public life.

So far, she has never been seen participating in any of the poll campaigns of her high profile husband or father-in-law.

A mother of three children -- an 8 year-old daughter and 4- year old twin son and daughter -- Dimple did her graduation in humanities from the Lucknow University. Most of her schooling was completed at Lucknow's Army Public School.

Daughter of a retired army colonel, who is now well settled in Barielly, she has had a rich experience of 'fauji' life . Incidentally, her two sisters are married to army officers.

It was a strange coincidence that she came in contact with Akhilesh with whom it was literally like love at first sight after which they got married on November 24, 1999.
Image: Mulayam's daughter-in-law Dimple will contest from Firozabad constituency